Profligate's Progress
January 14 - St. Barth, FWI
Given the amount of drinking down here in the Caribbean, it's a subject that's rarely written about. But maybe it should be.
It's no secret why people drink down here. It's hot and they are thirsty. Plus drinks are ice-breakers for folks on vacation making new friends, and guys and girls thinking about playing footsie. And since St. Barth is a French Island, more people drink wine than breath air.
The problem is that alcoholic beverages go down so easy in the tropics, and for reasons we've never understood, seem to have much less effect than in the temperate zones. For example, we'd be embarrassed to admit how much we and some of our crew used to drink during Antigua Sailing Weeks, but it was massive amounts and we did it long into the night. Nonetheless, we were functional and up and at 'em on the race course by 9:00 the next morning. Had we drunk that much back home, we wouldn't have been able to get out of bed. Furthermore, we rarely got a hangover despite doing it day after day. Who can explain that?
Other than regattas in the Caribbean and a few other special occasions, we've never been big drinkers. And now that we're a little older, we drink even less. For example, if we're alone or having dinner at home, it would never cross our mind to have a drink. If we go out for dinner with friends, the most we'll usually have is a cocktail and a glass of wine with a meal. We're always turning down drinks or saying no thanks to more wine.
We came to the Caribbean to have sailing fun and get healthy, not to drink and party hardy. But damn, it's hard to avoid drinking. Take yesterday, for example. We had a glass of rosé with lunch. Big deal. About six hours later, we had a Mt. Gay and tonic while watching the beautiful sunset from the back of Profligate. We actually only drank part of it.
On our way to dinner in Gustavia, we passed through Le Select to try to find our crewmember/guest, who shortly after he arrived on the island managed to find himself a nearly permanent guest at one of two luxury villas here. He wasn't at Le Select, but Chris, the captain of the 90-ft R/P Leopard of London was, and he asked us to have a drink. Since Chris has been Mike Slade's very active skipper for 13 years, aboard the likes of the Ocean 80 Ocean Leopard, the Farr 80 Longabarda - which famously ran aground at the entrance to the St. Francis YC many years ago - and the two-year old Leopard of London, he's a fountain of information. So how could we not have a Mt. Gay and tonic with him?
You can't imagine how much background and other information we were able to get from Chris. Such as the fact that the complete plans for L of L were revised more than 80 times before the boat was built. That the owner likes R/P over Farr because he knows he'll be getting the work of John Reichel and not some lower employee in the Farr organization. That one of the successes of the very successful L o L charter program is that Chris, a certified diver, includes six dives plus a night dive in the base cost of each charter. That charters in the Med are much easier to book and much easier to do than those in the Caribbean. For one thing, there are many more affluent people close at hand, and secondly, many of the charterers don't want to do anything more than be stern tied to the dock at St. Tropez or Monte Carlo where they can be seen. In the Caribbean, on the other hand, charterers, particularly Americans, want to sail everyday, and there's a lot of wind in the Caribbean.
In the course of learning all that and much more, another Mt. Gay and tonic managed to slipped down our throat, almost unnoticed.
During a delicious dinner a short time later, one small glass of wine seemed like the only thing to order.
So let's see, that's a total of five servings of alcohol in a day when we really didn't intend to drink anything. And we still hadn't swung by Bête à Zaile, the island's current hot spot, where people were throwing down drinks, very expensive drinks, as though they'd just crawled in from the desert. When we ordered a café crème, we were surely the only one of the 150 or so patrons who wasn't imbibing something alcoholic.
Our point is that if one has five drinks on a non-party day, can you imagine how many you can have on a festive day? Certainly more than is good for a human body, particularly on a semi-regular basis.
A santé!
We don't have any photos to illustrate drinking on St. Barth, so here's a couple of shots of what the island looks like through a sober lens.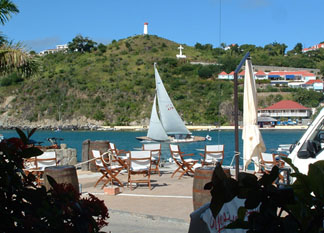 The maritime view from inside The Wall restaurant as a fine little local yacht sails out of Gustavia Harbor.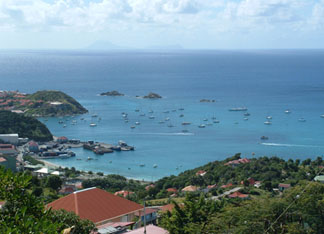 The anchorage off Gustavia and the industrial port. Who can pick out the 146-ft Mari-Cha III?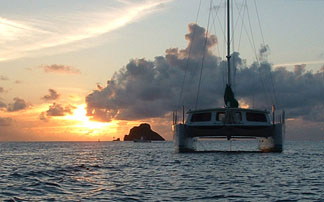 Profligate on the hook at Publics as the sun sets behind Pan du Sucre.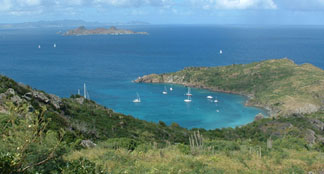 The Columbie anchorage, named after Columbus, who discovered the island and named it after his brother. Off in the distance is Ile Fourshure, St. Martin, Tintamarre, and even Anguilla - which rhymes with vanilla.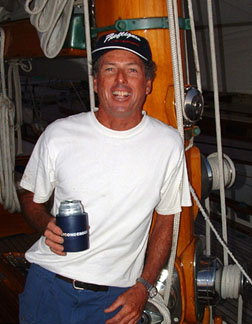 Well, we do have a drinking photo after all. This is Tom Reardon aboard Ticonderoga, of which he has been the captain for the last 18 years and three owners. "More than one beer a day and you're headed for trouble," he warns.

The small and lovely bay at Corossol. You'll rarely find a tourist here.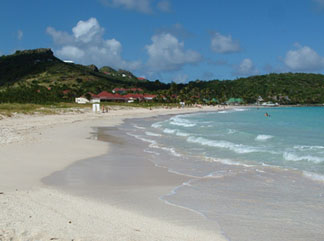 Baie St. Jean. If you stand here long, you'll surely be hit by an airplane, for it's only a couple of feet from the end of the short runway.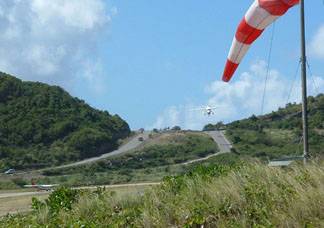 They chopped off part of a hill and built a new main road down past the airport. As you can tell, it was too easy for planes to land on top of cars and people when the old road was in use.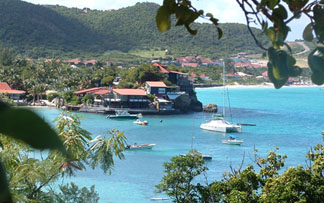 The harbor at Gustavia, St. Barth. Thirty-five years ago, the harbor was virtually empty and there was only one or two restaurants on the island. Now you have yachts like Ronald Perlman / Revlon's Ultima III, and restaurants all over the island.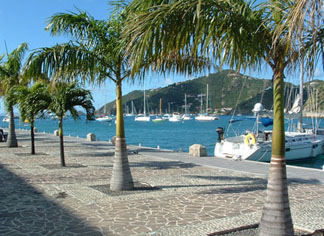 One of the reasons St. Barth is so popular is that they do things right. Check out the lovely new palm-lined stern-to area in front of the Hotel de Ville (city hall). Try to find a similarly nice public facility anywhere in the Caribbean.
Photos Latitude/Richard