A Whale of a Story
January 13 - Los Cabos, BCS
Petaluma Riverkeeper Dave Yearsley sent us this story as a follow up to our Mexican drift net fishing ban item, which appeared in yesterday's 'Lectronic. It comes from the national Waterkeepers Alliance list.
Kevin Colter of Amigos Del Mar de Los Cabos tells the story, "Saturday morning, January 10, we got word from Solmar Sportfishing Fleet that a humpback whale was sighted by one of their boats, struggling offshore of Chileno Bay, entangled in a drift net. Sr. Luis Bulnes, the owner of Solmar Fleet urged us to help free the doomed animal. So we from Amigos Del Mar and TV reporter Armando Figaredo on board a fast Solmar fishing boat provided by Sr. Bulnes, plus Oscar Ortiz and some folks from Cabo Expeditions, Lieutenant Pino Salas and one of his divers from the the Mexican Navy, and Oscar Hernandez and another diver from the Deep Blue dive shop, headed out to try to help.
"When we arrived at Chileno Bay we found the whale (a 40-ft female) completely entangled and wrapped up in a monofilament net that was probably 70 feet long. The net covered her whole body and trailed behind her. I thought to myself there is no way we can do this! It was just too much for our small group of amateurs. But we all decided to at least give it a try.


This is the mass of fouled net the divers found on the whale.
"The divers entered the water and swam toward the whale, Oscar from Cabo Expeditions hooked about 100 feet of line and a buoy to the net and we started to try to pull ourselves down that line close to her. She was frightened and moving along pretty good at this point, so pulling yourself along was difficult. We would pull ourselves down the line then grab onto the net, use the mesh of the net pull ourselves hand over hand onto her body and pick a spot and start cutting. The mono line of the net was very tough and you could only cut a strand or two at a time. The unbreakable line cut into your hands as you hung onto it, and many of us are sporting deep line cuts on our palms and our fingers this morning. You would hold on and cut until you simply didn't have the strength in your arms to hold on any more, then you released yourself and floated to the surface. As you rested for a minute the Zodiac boat from Cabo Expeditions would come alongside, you would grab on and they would tow you back to the trailing buoy and you started the process all over again.
"Her mouth was completely wrapped and sealed shut, her long pectoral fins were totally ensnared against her body, and a huge wad of net was trailing down her body and around her tail. For all that she sure could swim. We were moving through the water so quickly at one point I turned my head and my mask was pulled away from my face just from the slipstream current she was creating.
"Myself and Lt. Salas, a really excellent diver, ended up working together around her head. My theory was that even if we couldn't get all the net, if we could just get her head free at least she could feed. We kept cutting the monofilament and peeling it back away from her head until her huge mouth was free of net. We then worked our way back along her body, pulling the net back, and began cutting our way through the lines that ensnared her pectoral fins. It was right at this point that the most amazing thing happened; she just stopped, whether from exhaustion or because she finally understood we were trying to help. She became very still and just floated, breathing through her blowhole quietly on the surface while all of us continued to cut, cut, cut.
"To add a little spice to this whole adventure, the net itself was filled with a rotting mass of dead tuna, and several times we saw largish sharks circling above or behind us as we worked. I've never really been afraid of sharks; I've often dove with many sharks around, but in proximity with all the rotten fish, they made me a bit nervous. Oscar Ortiz theorizes that the sharks, attracted by the whale's struggles, were gathering, waiting for her to die so they could feed on her.
"I was working in the area around her eye when she actually began to 'sing' to us. As we worked, the mournful song filled the water around us, and I could actually feel it it vibrate deep in my body. Her singing motivated all of us to work that much harder.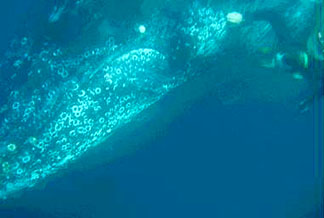 Colter and the whale swimming together, much of the net cleared away
Photos Above Miguel Ortiz
"Once we had gotten most of the net off her body, the remainder just tangled in her tail, the whale took off, swimming fast trailing the whole length of net. I found myself right next to Oscar at this point just hanging on; she was swimming way too fast for us to even try to work on the remaining net. Finally Oscar and I released from the line and floated to the surface, all the other divers were already up; she had left us all in the dust. We followed for a while, until she seemed to settle down again and some of the guys went back to work. I was completely spent. I floated quietly about 30 feet away as Oscar Ortiz cut the last of the net free and the whole tangled mess bobbed to the surface. Spectators who had assembled around us in kayaks and small boats were cheering. Oscar came to the surface waving his arms and screaming. She was free!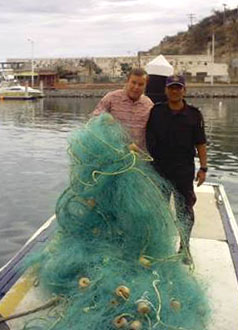 Kevin Colter and Lt. Salas with the mass of net, on the dock at the navy base
Photo Don Hirschaut
"The net that nearly killed this wondrous animal was what is called a 'drift gill net'. These nets are terribly destructive, sweeping across a patch of ocean killing everything in their path. Along with the food fish they are meant to harvest, what's called by-catch, which to the fishing industry means undesirable catch - the carcasses of sea lions, manta rays, turtles and dolphins - are way too often found dead and rotting in these nets. Drift net fishing has been banned in many parts of the world because it is so destructive. Drift net fishing persists here in Mexico, not, interestingly enough, to feed the people of Mexico, but instead to provide fish for large chain seafood restaurants in the U.S."