America's Cup: Kiwi Stumble Gives Alinghi a Third Win
June 29 - Valencia, Spain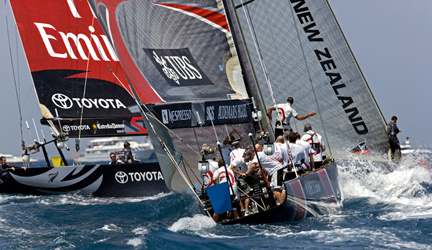 (Click on the photo to enlarge it.)
The Kiwis took the start in the fifth - and possibly most exciting - AC race.
© 2007 Ivo Rovira / Alinghi
The promise of the America's Cup has always been the most exciting match racing in sailing - a battle of equal parts physical strength, mental agility and boat design brought together in one exciting 10-day series. After a long, long drought, the duel between Cup defender Alinghi of Switzerland and challenger Emirates Team New Zealand, has finally lived up to that promise - and more. Not only has the 32nd America's Cup, currently being raced off Valencia, Spain, taken Europe by storm, it has captivated most of the sailing world - and much of the non-sailing world.
And Race 5, completed just hours ago, was perhaps the most heart-pounding of all. At the end, Alinghi triumphed, winning their third race and now leading Emirates 3-2. But little about this race was straightforward. In perfect 15-knot seabreeze at the 3 p.m. (Valencia time) start, Emirates skipper Dean Barker, with Terry Hutchinson calling tactics, backed the Swiss into a corner in the prestart maneuvers, forcing Alinghi helmsman Ed Baird and tactician Brad Butterworth to seek refuge in the spectator fleet. By the time Alinghi made it back to the line, they were trailing Emirates, which rounded the top mark 12 seconds ahead. But the best laid plans of the Kiwis came undone on the run when a small rip in their asymmetrical spinnaker turned into a blowout. They were ready with a replacement, but a miscommunication at deck level resulted in the second kite being hoisted before it was secured at the bottom. While it blew out sideways beside the boat, a third 'big red' was hoisted and the boat finally sorted out. By then, of course, Alinghi had sailed by.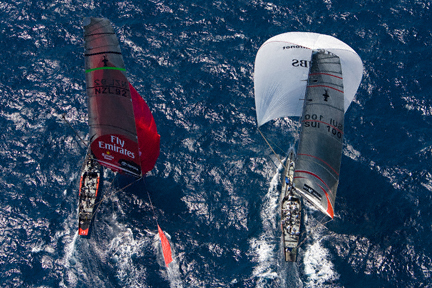 Alinghi overtook ETNZ after they blew their chute.
© 2007 Ivo Rovira / Alinghi
The Kiwis started making inroads into the Swiss lead, carving back to within three boatlengths in a tacking duel on the second beat, then closing a bit more on Alinghi while flying a symmetrical spinnaker (perhaps having exhausted their supply of aso's?) on the last run. The Swiss, as ever unflappable, held their nerve and their course to win Race 5 by 19 seconds.
If you have not yet seen any America's Cup racing, do yourself a favor and get up early tomorrow morning ­ on the West Coast, coverage begins on the Versus network about 6 a.m. (Check local listings for channel number.) The coverage is excellent and the racing itself will have you wishing there was more than one race a day.
The first boat to win five races wins the America's Cup. Race 6 is tomorrow, followed by a layday on Sunday, with Races 7 and 8 scheduled for Monday and Tuesday. Will there be a winner by then, or will this one go 'all the way' to nine races? These two teams are both so well matched, it's impossible to tell. But we're looking forward, as never before, to finding out.
As always, you can find much more information at www.americascup.com.
- latitude / jr