Nice Kitty
June 25 - Isle of Wight, Britain
Mike Slade's spectacular new Leopard, a 30-meter Farr ICAP design, is seen here in action for the first time during last weekend's JP Morgan Asset Management Around The Island (of Wight) Race. The first shot is of her rounding The Needles, and gives a good idea of just what a monster she is. Indeed, in many respects - length, canting keel, twin daggerboards - she's similar to Roy Disney's much-modified Pyewacket, which will be starting the TransPac in a couple of weeks. The new Farr design replaces Slade's R/P 92 Leopard of London, which had been sold to Spain.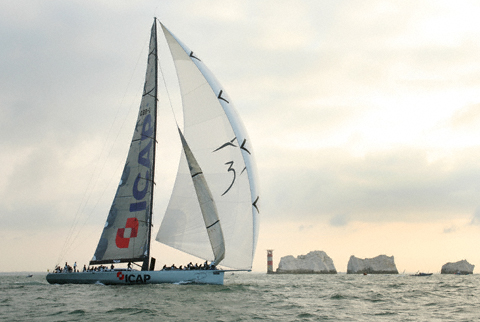 Leopard stretched her legs in the Around the Island Race.
© 2007 onEDITION
Starting just after dawn, Leopard and her 28-person crew of sailing all-stars, plus guests, completed the 55-mile course in just 4 hours and 23 minutes, despite relatively light conditions. She came within minutes of breaking the monohull course record established in 2001 by Slade's R/P 92 Leopard of London.
Line honors, however, went to the indomitable Ellen MacArthur on the Extreme 40 catamaran JP Morgan Asset Management, which covered the course in four hours and six minutes. Despite nine-foot seas and just 12 to 17 knots of wind, MacArthur and crew hit speeds of close to 30 knots.

There were another 1,797 boats on the course - we're not kidding and that's no typo - sailed by approximately 14,500 sailors. This despite the fact the Around the Island Race coincided with the start of the America's Cup.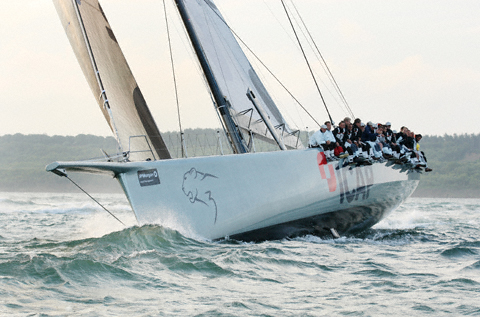 Carrying what appears to be half the population of England, Leopard nearly broke the previous Leopard's old monohull record.
© 2007 onEDITION
If all goes well - plans always change - we might get to sail on the new Leopard this New Year's in the Around St. Barth Race. How would something as unlikely as that happen? While Profligate was anchored off St. Barth a few years ago, Chris 'the hardest working captain in sailing' Sherlock, the skipper of Leopard of London, asked Doña de Mallorca if she could keep an eye on the 92-footer while he took his charter guests into town. From such little things friendships are made, so when they were short of crew for the Around St. Barth Race the next year, we got a chance to lend a very small hand. That's how things often work in the world of sailing, even at the higher levels. Sherlock has told us he wants that Around St. Barth record and that we're invited. The moral of the story - it behooves you to always be ready to do small favors for others.
- latitude / rs