America's Cup Teams 2-2
June 27 - Valencia, Spain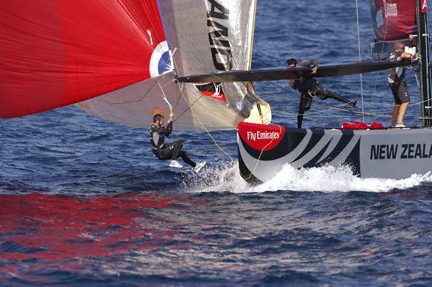 (Click on the photo to enlarge it.)
A bowman on Emirates Team New Zealand slipped and wound up spinnaker flying.
© 2007 Chris Cameron / ETNZ
As of this morning, defender Alinghi of Switzerland, and the challenger, Emirates Team New Zealand, are tied at two races apiece in one of the most 'even' and exciting America's Cup matchups in history. For the first time since the IACC yachts were adopted in 1992, we finally have, by all outward appearances, dead-even boats sailed by the two best crews in Valencia. Match racing simply does not get any better than this.
After splitting Races 1 and 2 over the weekend, and a layday on Monday, Dean Barker at the helm of NZL 92 and Ed Baird steering SUI 100 jumped back into the fray Tuesday afternoon (Valencia time) in probably THE most exciting America's Cup race in living memory. The Kiwis led by a huge 1:23 at the top mark, but a doused spinnaker jammed in a jibsheet block allowed the Swiss to pass on the next windward leg. On the run, they were holding a comfortable lead on the right when a 20-degree windshift in the last 500 meters catapulted New Zealand back into the lead for good. NZL 92 won by 25 seconds.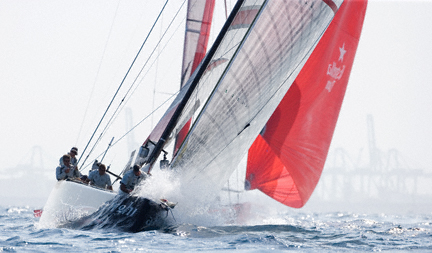 Even though Alinghi started out in the lead, Race 3 went to the Kiwis.
© 2007 Ivo Rovira / Alinghi
This morning, again in shifty 8-10 knot breeze, Alinghi fought hard for the righthand side at the start, won it, and led around every mark, also winning by 25 seconds. It doesn't get much more even than that. Again, New Zealand rarely gave up anything and made inroads into the Swiss lead over most of the course, stumbling only when they got an hourglass in the spinnaker during a jibe.
Tomorrow is another layday. Racing resumes on Friday. The first team to win five races wins the 32nd America's Cup, and we are happy to say that, at this juncture, we have no idea who that will be. This thing could go the whole nine-race distance before it's decided. For some historical perspective, the last America's Cup race that 'went the distance' was back in 1983, when it was a seven-race series. You may recall that Australia II, a 12-meter with funny-looking wings on the keel, won that one over Dennis Conner's Liberty, 4-3.
You can watch the America's Cup races on the Versus network beginning about 6 a.m. (check listings), or follow all the action at the official Web site, www.americascup.com.
- latitude / jr