Buzzing the Bay for the Ronstan Bay Challenge
June 15 - San Francisco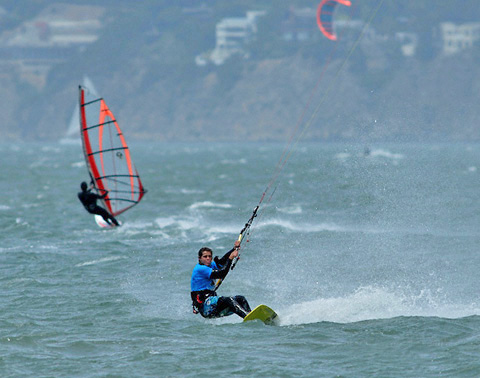 Sunday's conditions on the Bay were spectacular for kite and wind surfers racing off St. Francis YC.
© 2007 Erik Simonson/www.h2oshots.com
We mentioned a few of last weekend's races in Monday's 'Lectronic, but neglected to note that racing of a slightly more liquid persuasion also took place. Several folks set us straight, and board sailor Jim Kiriakis filed this report following the distance race of the Ronstan Bay Challenge:
"St. Francis YC hosted 38 kiteboards and Formula windsurfers for the Ronstan Bay Challenge. Saturday we organized the distance race, a course starting in front of the yacht club, upwind to Presidio Shoals, down to the Berkeley Pier, with an upwind finish between 'A' buoy and the race deck. In the Formula Division, StFYC member Seth Besse set a course record of 53 minutes, traveling more than 20 miles in less than an hour! Ever the pioneer, Chip Wasson was riding an experimental hydrofoil board, quite a sight riding along two feet above the water."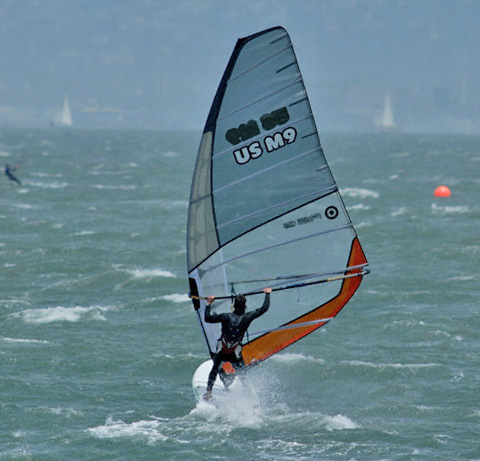 Bill Weir stands back, balances and holds on tight during Sunday's short course racing.
© 2007 Erik Simonson/www.h2oshots.com
On Sunday, the boardheads stayed a little closer to home for a few buoy races near Crissy Field. In the Formula division, Besse won each of the three races thereby proved his ability to adapt between long and short courses. Olympic hopeful Steve Bodner was right behind in the standings, with straight seconds. Chavez again led the way for kiters with bullets in both their races. Complete results at www.stfyc.org.
Aside from regular Thursday night kite races off Crissy Field this summer, next up on calendar is the inaugural US Kiting National Championships July 25-28, also hosted by StFYC. The format calls for three days of buoy racing followed by a day of jumps off a mega ramp. Our sources tell us this spectator event is not to be missed.
- latitude / ss