Photos of the Day
June 11 - Catalina Island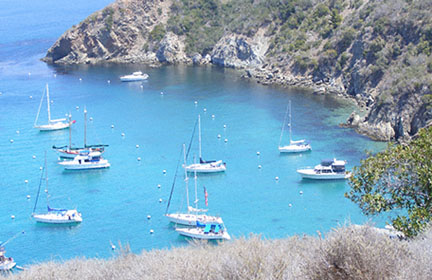 (Click on the photo to enlarge it.)
© Latitude 38 Publishing, Inc.
Is today's Photo Of The Day a sign of times to come? It was taken yesterday afternoon at Fourth of July Cove on Catalina, which is just around the corner from Isthmus Cove. While the photo is of a lovely sight, what's really interesting is the number of sailboats compared to the number of powerboats. In recent years, the ratio at the island has been about 75% powerboats to just 25% sailboats. But as you can see in this photo, the sailboats outnumber the powerboats by seven to four. To be fair, if we'd had a wider angle lens, it would have shown that there was about an equal number of sailboats and powerboats. But over in Isthmus Cove, just 100 yards away, it really was a different story, as the sailboats outnumbered the powerboats by an astonishing 30 to 15. And it's not as though there was a large 'special occasion' number of sailboats. In fact, the Long Beach YC racing fleet had left several hours before. One possible explanation for the different ratio between the two types of boats is that much higher fuel prices are having more of a negative impact on powerboaters than sailors. We'll learn more as the summer goes on.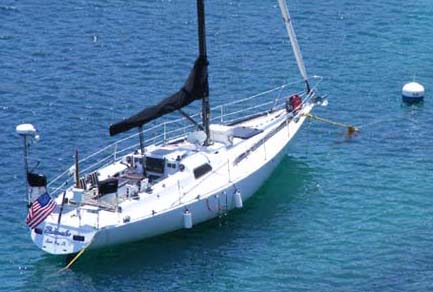 Panache still looks good for a thirtysomething.
Photos Latitude / Richard
© Latitude 38 Publishing, Inc.
By the way, while dinghying ashore to Isthmus Cove from our boat on Harbor Reef, the distinctive shape of one boat on a mooring caught our eye from 150 yards away. "It looks like Panache," we thought to ourselves. We motored over, and sure enough, it was the 40-footer that was one of Bill Lee's very early ultra-lights, a precursor to Merlin. If we're not mistaken, she did the '73 and '75 TransPacs, although Chutzpah, a Lee 36, did a little better, taking overall honors both times. She was later owned and campaigned hard by Rod Park of Richmond YC, who ultimately sailed her in a Singlehanded TransPac. We're not sure who owns her now, but we're delighted to report that, in her early thirties, she looks spectacular! We were hoping to invite the owner to a BBQ that evening, but he wasn't aboard, and the next thing we knew, he'd taken off. But our compliments on having the boat in such great shape. If we're not mistaken, Panache was the last beamy boat that Lee designed. While in Hawaii he saw the skinny Ragtime, was impressed, and made Merlin more of a needle.
Remember how warm it was last year in Catalina? By June the water was in the mid to high '70s, warmer than anyone could remember. Talk about climate change, the water is now, depending on who you talk to, between 61 and 64. Brrrrrrrr.
- latitude / rs