A 'Kid'-Friendly TransPac
June 1 - Los Angeles
With less than a week until the entry deadline and a little more than five weeks until the first start of the 44th annual TransPacific Yacht Race, the TransPac hive is buzzing with action. As of Thursday, there were 73 paid entries for the race from Los Angeles to Honolulu next month. That's just two fewer than the 2005 race and seven shy of the race record set in 1979. Among the list are 13 boats from Northern California. (The complete entry list is at www.transpacificyc.org; we hope to have more about this year's fleet in the July issue of Latitude 38.) But grabbing our attention at the moment are the number of young people involved in this year's race.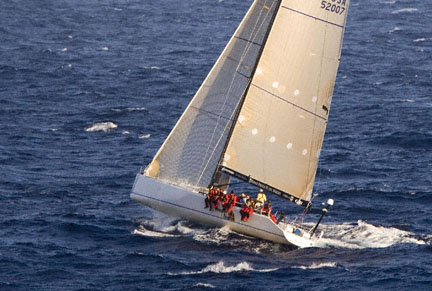 Morning Light launches off to Hilo during a practice session.
© 2007 Phil Uhl / Pacific High Productions
You've read about the Morning Light team in Latitude 38. That's the group of 'kids' sailing a TP52 in this year's TransPac and starring in a feature film about their selection, training and competition - all under the auspices of Roy Disney. Initially, the movie was promoted as a story about the youngest crew to complete the race, and team members were selected with an eye towards ensuring their average age at the time of the race, 21.2, was well under the current record of 22.57 years old. But already there's been a twist in the plot. The Morning Light focus has shifted from setting an age-related record to bringing together a young crew from diverse backgrounds. The reason? There are new kids in town. Sean and Justin Doyle, 19 and 18 respectively, will sail their dad's Hawaii-based 1D-35 On the Edge of Destiny with three other young men in this year's race. Their average age of 19.8 would make them the youngest TransPac crew ever. "Morning Light had a little bit to do with it," admits Sean and Justin's dad, Dan, himself a Hawaii race veteran, who will be staying on shore this year. "The inspiration to put a bunch of kids together came from there." Recent dock talk indicated that 17-year-old former Melges 24 World champion Shark Kahn had been invited to join the crew, although Shark's name is not on the current crew list. Adding to the irony, Morning Light is the former Pegasus, which was owned and campaigned by Shark's dad, Philippe.
But those aren't the only young ones preparing for the race. Skippering the Standfast 40 Cirrus will be 22-year-old Lindsey Austin. Austin, who has a 100-ton Master's license from the Pacific Maritime Center in Hawaii, was one of 30 finalists for the Morning Light team before it was trimmed to 15 during tryouts in Long Beach last summer. On Cirrus, she'll lead an all-woman crew (including her mom), with the exception of boat owner Bill Myers. She met Myers when she delivered his boat to San Francisco for the start of last year's Pacific Cup.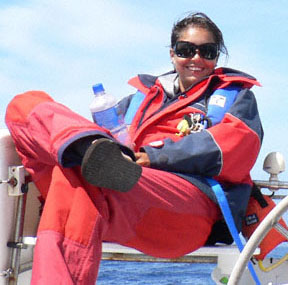 It is believed that Lindsey Austin will be the second- youngest female skipper in TransPac history.
Photo Courtesy Cirrus
With literally boat loads of interest in this year's race and so much new blood, it seems West Coast ocean racing is in a healthy state once again. We hope this is a trend that's here to stay - it's good for the race, it's good for the younger generation and it's good for the rest of us. Add to all of this a feature film that exposes an even larger audience to the race, and the future is looking bright indeed.
- latitude / ss