Miami Grand Prix Report
March 16 - Miami
With just 46 boats, it may have been smaller than in past years but last week's Acura Miami Grand Prix was no less grand in any other manner. Some of the best of the best from the Volvo, America's Cup and various world championships, and even some amateurs, came to South Florida seeking competitive racing, double-digit winds, warm air and water, and sunny skies - leave your foul weather gear at home - and that's exactly what they got. In all, racers represented 11 countries and 15 states, with a handful of folks making the trek from the Bay Area.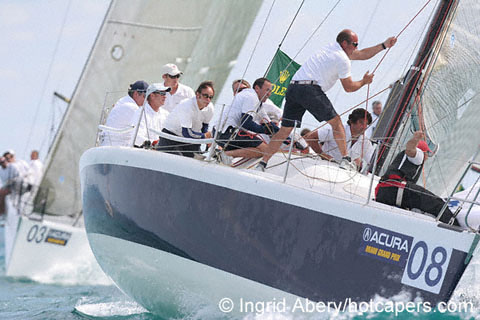 Dario Ferrari's Cannonball, with Cameron Appleton calling tactics, in the Farr 40 procession around the top mark.
©2007 Ingrid Abery/www.hotcapers.com
The top-notch race committee from Premiere Racing got nine races in during the four-day regatta for Farr 40s, Melges 32s, Mumm 30s, and big boats in an IRC division, and all four classes came down to the last day. Top honors went to Steve and Fred Howe's San Diego-based Warpath (Farr 40), Italian stallion Claudio Recchi's Let's Roll (Melges 32), new Volvo Ocean Race campaigner Peter De Ridder's Mean Machine (Mumm 30), and John Kilroy's star-studded TP 52 Samba Pa Ti (IRC). Warpath, with match racing phenomenon Ian Williams calling tactics, also walked away with the Rolex Farr 40 North American title and the Acura Boat of the Week honor. Although Ernesto Bertarelli's Alinghi finished fourth in the Farr 40 division in Miami, when its score was added to its performance at Key West Race Week in January, it qualified for the Acura Grand Prix Award in that fleet.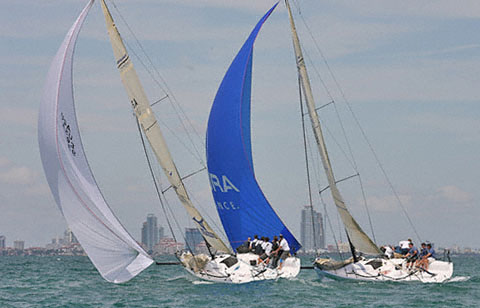 Jeff Ecklund's Star (blue kite) rolls over Let's Roll (white kite) in the Melges 32 fleet. Star, with two of the Melges boys on board, finished second to Let's Roll.
©2007 Ingrid Abery/www.hotcapers.com
For complete results and more photos, go to www.premiere-racing.com. And look for a full report of the action from South Beach in the April issue of Latitude 38.
- latitude / ss