We Had It All Wrong
March 14 - San Blas, Mexico
Steve Rankin has good reason to be a little miffed at us. In the March 9 'Lectronic we ran a photo of his boat Bu'Kwiis. Since she sort of looked as though she had run aground at the entrance to the estuary in San Blas, Mexico, and since some boats have done that recently, that's what we reported.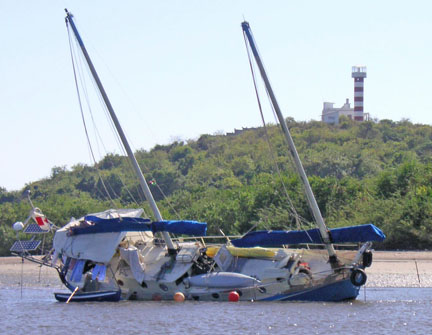 Photo 'Adrian'

©2007
Latitude
38
Publishing
Co.,
Inc.
But what we assumed had been a case of poor seamanship turns out to have been just the opposite. Rankin explains in an understandably testy tone: "The day I need help from Norm Goldie to enter San Blas Estuary - or anywhere else, for that matter - will be the day I quit sailing and take up knitting or maybe sitting around in a zocalo somewhere blowing smoke. If you have a better way to clean a prop in water you wouldn't swim in than careening your boat, please advise. Believe it or not, careening has been the way boat bottoms have been accessed and cleaned since before Travel-Lifts and rails. And we careened the boat next to the anchorage in the estuary, not at the entrance. While I'm sure there were nothing but good intentions on the part of the cruisers and photographer who were thinking there was a 'situation' with Bu'Kwiis when the photo was taken, we were actually just enjoying the sights from the fort at San Blas while waiting for the tide to drop. By the way, the cleaned prop gave me an extra half knot."
While we thought the boat in the photo might have been Bellavia because of the unusual on-deck hydraulic windlass, Rankin tells us that Bu'Kwiis is actually a steel Gazelle hull with a modification of the rig on Bellavia. "Bu'Kwiis has a 510 sq-ft foresail of the Hasler/McLeod design, and a 450 sq-ft Colvin designed fanned sail - both fully-battened junk sails. Bu'Kwiis' keel has been deepened by six inches to about five feet to compensate for the higher center of effort on the sail plan. She has a full-length keel but no skeg. I have careened her three or four times before, but this was the first time since I deepened her keel. When careened, the water reaches the ports, but they don't leak so it doesn't present a problem.
"I sailed Bu'Kwiis from British Columbia to Mexico in '04 after an extensive refit, which included adding hydraulics, widening the foredeck, reinforcing the hull to accommodate the unstayed masts, adding the fully enclosed bimini and so forth. By the way, the deck-mounted reel type hydraulic winch is used on our British Columbia fishboats and, of course, Bellavia. My boat has spent the last couple of summers on the hard in Guaymas, and will do so again this year."
We're glad we had a chance to clear this up and that Rankin has accepted our apology. By the way, have you ever careened your boat? If so, we'd love to see a photo and a brief explanation (email Richard).
- latitude / rs