Big Daddy Regatta
March 12 - Pt. Richmond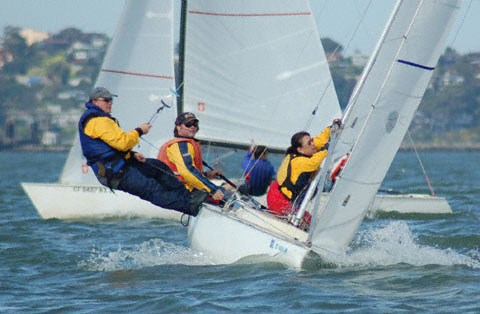 Hanging out on the Wabbit Keala
Photo Latitude/JR
©2007 Latitude 38 Publishing Co., Inc.
Punxsutawney can have their groundhog. Out here in the Bay Area, there's only one way to celebrate the end of winter and the beginning of spring, and that's to sail in Richmond YC's Big Daddy Regatta. Named for then commodore Bob 'Big Daddy' Klein, who conceived of the idea (with Gary Clifford) back in 1983, this 25th annual BDR was once again a smashing success, even down to having that commodity so rare in the past few months - wind. Well, at least on Saturday afternoon.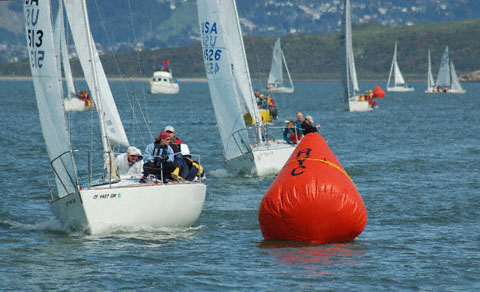 The legs were short, the breeze picked up after Race 1, and the current was strong on all Big Daddy courses.
Photo Latitude/JR
©2007 Latitude 38 Publishing Co., Inc.
A hundred and one boats in 12 fleets turned out for the pirate-themed festivities - which included dancing Saturday night to the tunes of Shark Sandwich and awards for the best buccaneer attire. On the water, the usual format featured three short races Saturday on each of three neighboring East Bay venues - Southampton, the Berkeley Circle and the 'Deepwater' course off Treasure Island. That was followed on Sunday by the Big Daddy Pursuit Race - from the Richmond breakwater around Alcatraz and Angel Islands (in either direction) and finish back in the Richmond Channel. Almost everyone this year went clockwise, but alas, the breeze went away and much of the fleet ended up dropping out.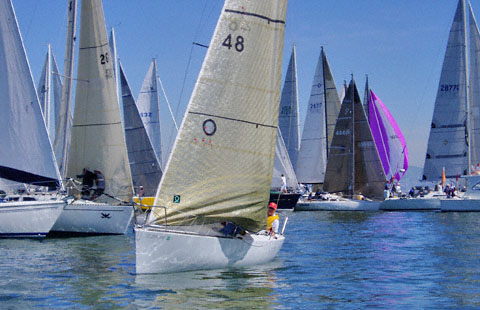 A mixture of boats drift over the line in Sunday's windless start.
©2007 Latitude 38 Publishing Co., Inc.
Photo Latitude/Chris
The big winners of the weekend were 1D-35 owner Andy Costello and his Double Trouble crew, who won their division on Saturday and toughed out the light stuff to also win on Sunday.
Complete results for the Big Daddy Regatta can be found at www.richmondyc.org.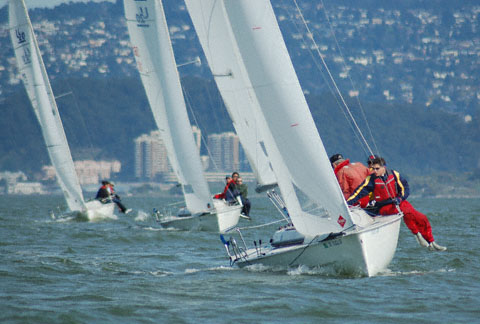 Cloud Nine (right) on the way to a win of the Ultimate 20 class on Saturday.
Photo Latitude/JR
©2007 Latitude 38 Publishing Co., Inc.
Saturday winners were: PHRF 1 - Double Trouble, 1D-35, Andy Costello; PHRF 2 - Desdemona, J/120, John Wimer; PHRF 3 - 10R, Beneteau First 10R, Chris Corlett; PHRF 4 - Dianne, Express 27, Steve Katzman; PHRF 5 - Paramour, Moore 24, Rowan and Marina Fennell; IRC - White Fang, Beneteau 40.7, Mark Howe; 99er - Razzberries, Olson 34, Bruce and Lina Nesbit; SF 30 - Shameless, Schumacher 30, George Elliott; J/105 - Wonder, Tim Kennelly; J/24 - Casual Contact, Edward Walker; Ultimate 20 - Cloud Nine, Jim Carlsen; Wylie Wabbit - Kwazy, Colin Moore.
- latitude / jr