Hurricane Paul Threatens Cabo San Lucas and La Paz
October 23 - Baja California Sur
In all of recorded hurricane history in Mexico, only one hurricane has hit Baja after October 14. That was Olivia, which made landfall near Mulege back in '67. But if Hurricane Paul, which has built to a category 2 hurricane, keeps on its projected path, it could hit Cabo San Lucas and/or La Paz, and elsewhere on Baja. Like a lot of late season hurricanes, it started out heading due west, but is expected to rapidly make a nearly 120 degree turn, and head toward Baja, and then the somewhat less populated areas of the mainland.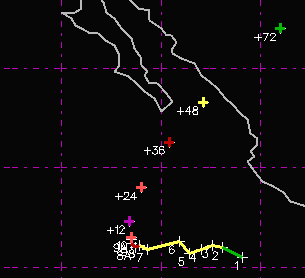 Graphic Courtesy Unisys Weather
http://weather.unisys.com/hurricane/e_pacific/2006/index.html
For the record, three other hurricanes have passed close to Baja after October 14, but didn't make landfall. One of them - and this will keep you on your toes if you're headed south - came close on November 29, nearly a month after hurricane season is generally considered to be over.
What's all this mean for the Baja Ha-Ha? At this point nothing, other than the Ha-Ha staff will continue to monitor tropical conditions via Commander's Weather as they do each year.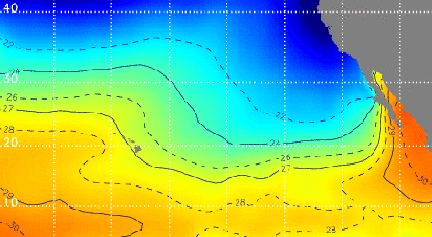 Graphic Courtesy National Weather Service
"One of the good things about the Ha-Ha is that the course takes the fleet far to the south," notes the Grand Poobah, "so the first half of the event is in cool water, which doesn't support hurricanes. As you can see from the water temperature analysis, the sea surface is actually reasonably cool - about 76 degrees - even down at Turtle Bay. Another thing to remember is that this is the transitional season in Mexico, when the weather is changing rapidly. While it had been blazing hot only a short time ago, now people are wearing sweaters at night in La Paz, turning off air conditioners in Mazatlan, and so forth.
"Nonetheless, the possibility of hurricanes and even tropical storms is nothing to be taken lightly, so we at the Ha-Ha will be monitoring the various conditions necessary for the formation of hurricanes on a daily basis. And, if two weeks from now, when the fleet should be leaving the secure anchorage at Turtle Bay for Bahia Santa Maria, the conditions look ominous, we would certainly reevaluate the situation, and perhaps hold the fleet until conditions looked safer. I can assure everyone that we have no interest in sailing into a tropical storm or hurricane. But for now, all is proceeding as normal."
The other thing folks need to keep in mind is that climate analysis and weather forecasting are far superior to what they were even a few years ago. As such, the chance of suddenly being caught by surprise is rather remote. For example, in the case of Paul, residents of Baja will have had at least two full days of knowing there was a tropical depression with the potential to build heading their way.
- latitude / rs