Two New Boats about to Launch, One Old Connection
October 18 - Portland, OR, and Newport Beach
From '86 to '89, Richard and Sheri Crowe built the sea foam green Farr 44 Confetti. Immediately after launching her, and without any real shakedown, the couple took off for Acapulco, Chile, Cape Horn, South Georgia Island, and the Caribbean. Extremely experienced and confident sailors, they do stuff like that.
In '93, wanting a boat that was capable of sailing in ice and Antarctica, they sold Confetti to Peter and Susan Wolcott of Hawaii. After sailing the boat for a few years, the Wolcotts bought a sea foam green Santa Cruz 52, did the '01 Baja Ha-Ha, and have pretty much been sailing the South Pacific ever since.
Unbeknownst to each other, the Crowes and Wolcotts are, in the next several months, going to be launching new boats. For the Crowes, it will be another Farr 44, albeit a more high-tech and modern version of Confetti to be called Tabu.
As for the Wolcotts, they went to the dark side, by having Morrelli & Melvin design them a - yes, sea foam green - 52-ft catamaran that will be named Kiapa. She's nearing completion at Steve Rander's Schooner Creek Boatworks in Portland. "Susan and I are dying to get out cruising again," says Peter.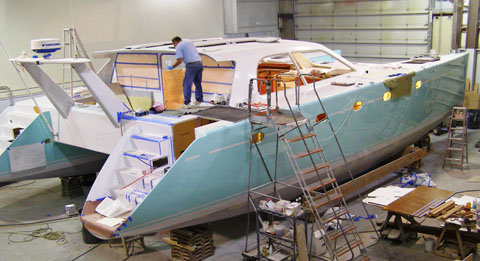 Kiapa
Photo Courtesy Schooner Creek Boatworks
For more on these new boats, and the distant places the owners plan to sail them, check out the November issue of Latitude 38, due out on November 1.
- latitude / rs