A Total of 601 Baja Ha-Ha Participants, 22 of Whom Are 14 or Under
September 27 - Tiburon
"While there are certain to be some changes," reports Ha-Ha Honcho Lauren Spindler, "according to the entry paperwork, there will be a total of 601 participants in the Baja Ha-Ha, which starts on October 30 from San Diego. Of these, 22 are 14 years or younger.
"Here's the breakdown: The two youngest are six months and one year. In addition, there are two who are 6, two who are 7, one is 8, and two who are 10. There are three 11-year-olds, four who are 12, four who are 13, and another who is 14.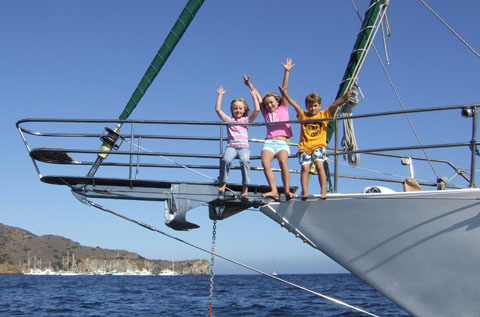 That's six-year-old Coco, of the 67-ft schooner Cocokai, on the far left. She's probably asking the other kids, "You mean your parents didn't name your boat after you?!"
Photo Latitude/Richard
"Others under the age of 20 include two 15-year-olds, one 17-year-old and one 19-year-old. The boats with kids under the age of 14 are Bluebird, Calou, Companera, Cocokai, Fafner, Kalewa, Louella (Joie de Vivre), Liberty, Mirage, Pythagoras, Ruby Slippers, Salt Whistle, Southern Belle, Sosiego, Vanishing Pt, Wiz. Ruby Slippers has 12-year-old twins!
"At the other end of the scale is 78-year-old Merrill Newman, who will be sailing on Solstice, 76-year-old Milton Tanner on Bellavia, and two 70-year-olds, Paul Brocchini on Athena and Chuck Jones on Aztec. There will also be a 73-year-old woman crewmember."
- latitude / rs