536 Feet of Boats Square Off in Just a Two-Boat Race?
September 25 - Monaco
That's right, as Tom Perkins, owner of the 289-ft Maltese Falcon, the largest sailing yacht in the world, and Joe Vittoria, owner of 247-ft Mirabella V, which is the largest sloop in the world, apparently had a friendly duel off Monaco over the weekend. For some reason BYM News, which reported the event, is withholding the results of the 'race', but did announce that Mirabella got up to 18.4 knots.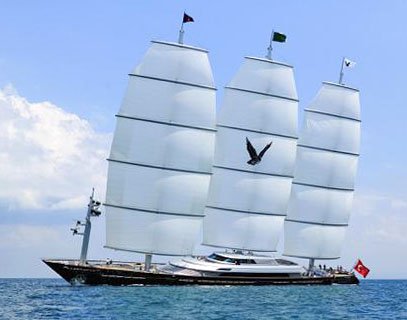 Maltese Falcon
Photo Courtesy www.charterworld.com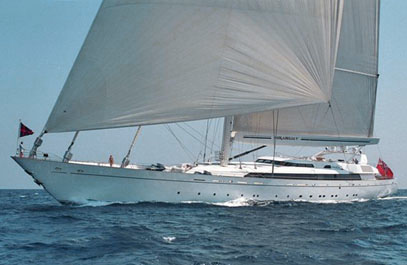 Mirabella V
Photo Courtesy www.mirabellayachts.com
The two ultra entrepreneurs first met in Belvedere about two years ago, when Vittoria came from the East Coast to give a presentation on his new boat at the Corinthian YC. We happened to be at the lunch because we picked up Vittoria from the airport, and therefore got to hear the two men bemoan the incredible number of seemingly senseless bureaucratic obstacles to completing such yachts. The two seemed to hit it off, and casually suggested that it might be fun to race the two unusual boats at some point in time, and now they have.
Both men, now in their 70s, have loved sailboats their entire lives, starting on Long Island Sound. And both started pretty low on the food chain. Vittoria, for example, earned money scrubbing decks when he was young, and Perkins' first boat on San Francisco Bay was a 17-ft Teak Lady. Say what you will, the U.S. is the land of opportunity.
- latitude / rs