Baja Ha-Ha Entry Deadline
September 1 - Tiburon
The Mexico hurricane season officially ends November 1, just in time for the start of the Baja Ha-Ha Cruisers Rally, which departs San Diego on October 30 this year.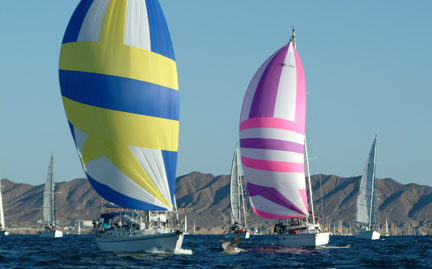 No hurricane weather has ever threatened a Ha-Ha fleet.
A gentle reminder from the nice folks at Baja Ha-Ha world headquarters to those of you planning to sign up for this year's rally: the deadline is the 11th of this month. Before you can sign up, you need to order an entry packet by mailing a check for $15 made out to Baja Ha-Ha, Inc., to 21 Apollo Road, Tiburon, CA 94920. Please don't send anything that requires a signature. For complete details on signing up, go to their Web site at www.baja-haha.com.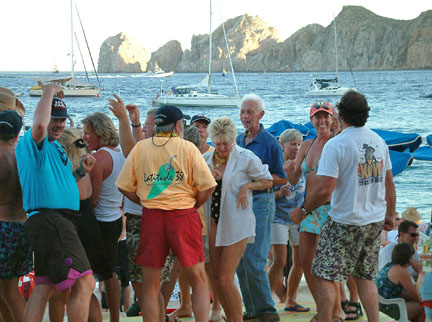 What are these goofy people up to? To find out, you'll have to Ha-Ha!
To date, 260 application packets have been sent out, which is a 20% increase over last year on this date - and more are being requested every day. Fortunately, the Rally Committee subscribes to the philosophy that "the more the merrier," so there has never been a cap established on the number of boats which can enter.
Here are the latest entries in good standing:
93) Escapade / Beneteau 473 / KKMC, LLC / Sun Valley, ID
94) Flying High / C&C Landfall 39 / Ed Lungren / Sunnyvale
95) Flying Fox II / Dragonfly 1200 tri / D. Steven Fox / Malibu
96) Heart 2 Heart / Irwin 41 ketch / Jeff Overley / Cucamonga
97) Kind of Blue / Island Packet 380 / Jim McGihon / Gig Harbor
98) Sosiego / Westsail 32 / Joseph Graham / Vacaville
99) Flying Fox / Corsair F31UC / Paul Ludgate / Costa Mesa
100) Mirage / Hunter 410 / Robert Leslie / Redding
101) Brisa / Custom 50 / Ed Martinex / Mill Valley
102) Wave Goodbye / Hunter 44DS / Dan Redding / Carlsbad
103) Yachtsman's Dream / Fountaine-Pajot 43 / John Bickford / Richland, WA
104) New Focus / Catana 431 / Paul Biery / Livermore
105) Gettin' Around / Catalina 400 / Doug Springstead / Buford, GA
106) Itsabout / Valiant 42 / John Graff / Denver, CO
107) Wind Trekker / Corsair 31VC tri / Tom Brown / Palo Alto
Whether you're planning to Ha-Ha this year, have done it in a previous year, or are interested in cruising to Mexico this fall, be sure to put the Latitude 38 Mexico-Only Crew List Party and Baja Ha-Ha Reunion on your calendar. Southbound cruisers will gather on Wednesday, October 4, from 6:00 to 9:00 p.m., at the Encinal Yacht Club in Alameda. Price of admission is a paltry $7, including complimentary munchies and a whole lot more. For details, see www.latitude38.com/crewlist/CrewParty/CrewParty.html.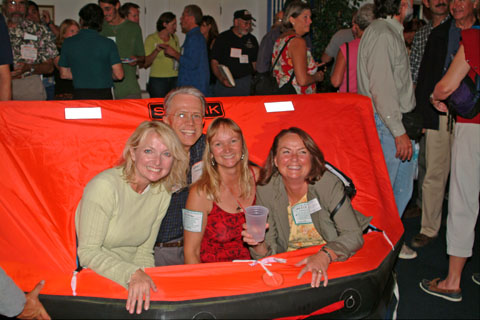 Sal's Inflatables' liferaft demo is always a big hit at the Crew List Party.
Photos Latitude/Archives
Also at the party, prospective crew will be looking for rides, and skippers can find willing crew. You don't have to be on the Crew List to find what you're looking for at the party, but it sure helps - and you get into the party for free! For more on the Crew List, to be published in the October issue of Latitude 38, see our crew list pages. The deadline to sign up for the Crew List is September 15, so don't delay!
- latitude / cw & aet