Special Edition: St. Francis YC to Host World Match Racing Event
August 30 - San Francisco
In a surprise announcement Wednesday, the St. Francis YC revealed plans to host a stage of the World Match Racing Tour here, October 24-29, to be called the Allianz Cup. One of 14 venues worldwide during the 2006-2007 season, San Francisco will be the only U.S. location.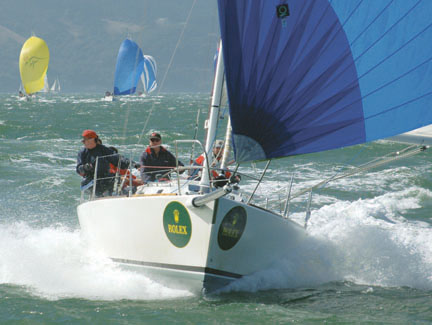 The J/105 design was an obvious choice for the Tour, as it is the largest class currently competing on the Bay. Seen here, the J/105 Good Timin' put the pedal down at last year's Big Boat Series.
Photo Latitude/Archives
Although the entry list is not yet finalized, an unprecedented level of star power is expected, including nine America's Cup skippers. Among them will be New Zealander Chris Dickson, skipper of the BMW Oracle Racing A-Cup team, and Alinghi helmsmen Ed Baird (currently ranked 5th on the Tour) and U.S. Virgin Islander Peter Holmberg, Tour champion in 2001-2002. The current Tour leader, Sebastian Col, will take time out from training with France's Areva Challenge to race in the Allianz Cup.
In all, sixteen five-person teams are expected to compete in the five-day, round robin elimination, all racing aboard similarly outfitted J/105s, supplied by St. Francis members. At each venue the Tour traditionally picks a wild card entry from among local sailors. For the San Francisco event, Chris Perkins has been given that prestigious distinction - many in the Club, of course, are hoping that Perkins and Co. give the international hotshots a run for their money.
Allianz, a multinational financial services giant, will put up $100,000 in prize money, and the event will draw dozens of foreign print and television journalists. The events will be televised after the fact in the U.S. by OLN network, and there will also be a live Internet feed daily.
Following the model established here three years ago with the running of the Moët Cup, Match Racing organizers will endeavor to make viewing the races as accessible as possible to the general public. All of the short, one-on-one races will be staged out in front of the St. Francis and Golden Gate YCs, and a public grandstand will be erected along the seawall between the two clubs. There will also be an interactive regatta village where the curious can learn more about sailing and match racing, view exhibits and test their brawn at a winch-grinding display.
Showing obvious confidence in the St. Francis YC's ability to host a top-notch event such as this, as well as confidence that the Bay will produce ample wind conditions for exciting competition, Match Racing World Tour President Scott MacLeod said, "I actually think this is the best venue in the world tour to showcase this type of event." We couldn't agree more.
For more info on the Tour, its competitors and events, see: www.worldmatchracingtour.com.
- latitude/aet