Feathered Crew
July 10 - Marmaris, Turkey
"During our crossing of the Mediterranean from Port Suez to Marmaris, Turkey, we had a crew member join us," write Sue and Gene Osier of the Serendipity 43 Peregrine. "We didn't find somebody floating two hundred miles offshore, this crew member flew in. Our crossing happened to coincide with the annual bird migration from Africa to Europe. It became obvious that we were not the only beings out there taking a beating.
"One night during winds of 25-30 knots, we had several birds land on the boat, apparently exhausted by the fierce winds. We tried hard not to scare them, but our frequent pop-ups to scan for ships spooked them. The birds that rested briefly and left were: European kestrel, dove, swallow, and collared flycatcher. One bird stayed for three days. He was a yellow wagtail and was a huge source of enjoyment to us. His internal navigation system seemed to work on the boat as well as in the air, because he was very content to stay on his two-star, free meal cruise ship. Wagtails are flycatchers and I hadn't provisioned for bug eating crew, so I scrambled him eggs twice a day. He loved them. I also left out water and crumbled bread-sticks." The Osiers named their winged visitor Kato.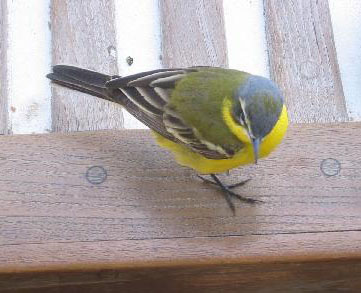 The new crew waits for his eggs.
"He perched next to or on us while we were out in the cockpit. It was incredible. On day three, we arrived in Marmaris. Just as the sun came up, we had a brief break in the wind. We sailed into a patch with moths flitting about and Kato would fly from Peregrine, grab a moth, and bring it back to de-wing it and eat it. About five miles out, Kato gave a 'cheep, cheep', and flew towards land. Kato's visit was a wonderful start to our Turkish adventures."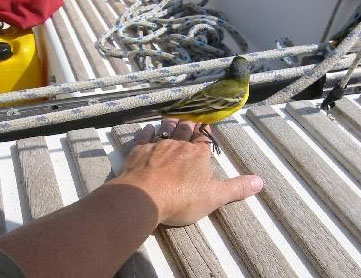 Photos Courtesy Peregrine