All Entries Start the West Marine Pacific Cup
July 7 - San Francisco Bay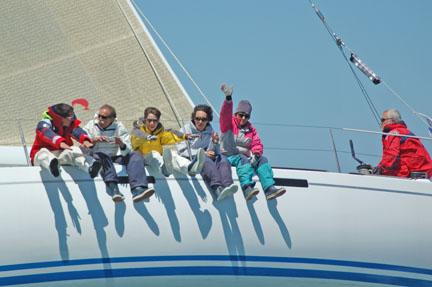 The crew aboard Kyrnos, Frederic Laffitte's Barnett 56 from Woodway, WA, show off their rail-meat skills.
We are happy to report that every one of the 43 entrants in the biennial 2006 West Marine Pacific Cup have crossed the starting line and are well on their way to Kaneohe Bay on Oahu. Staggered starts for six divisions ran all week, ending with Division E yesterday afternoon.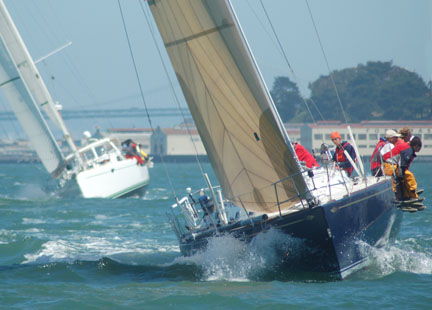 Elyxir, Skip Ely's Santa Cruz 52 out of La Selva Beach, leads the way for Free Range Chicken.
Wednesday's exciting start for the eight boats in Division D was a raucous ride with a stiff breeze and rollers in the Bay. Seven Division E boats, the 'big boys' in this 2,040 mile race, found moderate winds inside the Bay yesterday afternoon but got slammed just outside the Gate. Even so, there have been no reports of serious gear problems.
Not surprisingly, the Division D and E boats are quickly gaining on the other divisions. Division D's Riva, Scott Campbell's Vancouver, WA-based J/46, is less than 30 miles behind Stray Cat Blues, Fremont's J/35 owned by Bill Parks, the trailing Division C boat. Division A's Green Buffalo, a Cal 40 owned by San Franciscans Jim Quanci and Mary Lovely, is leading the fleet and their division, making about 125 miles a day.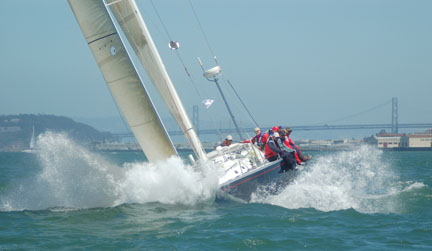 John McPhall's Fox Island, WA-based J/160 Jam makes a splash.
Photos Latitude/LaDonna
Belvedere's Michael Moradzadeh aboard the Passport 40 Cayenne (Div. A) reports that the odd wind patterns that plagued the early days of the Singlehanded TransPac are affecting Pacific Cup racers too. But many are making the best of it by doing their grocery shopping in the ocean. "A couple of tuna became lunch on some fortunate boats," Moradzadeh noted. "The hardcore racers, of course, turn up their noses at fishing while racing, but the West Marine Pacific Cup is a wide open race and more than one sailor has taken home the trophy with a fishing pole in the other hand!"
Check www.pacificcup.org for regular updates.