Owned Her for 30 of 31 Years
June 30 - Tiburon
A few months back there were a number of letters in Latitude 38 regarding the so-called 'Garden 41' and 'Garden 51' designs that were built in Taiwan and marketed under a number of names, including Sea Wolf, Formosa, Yankee, and others. There was some discussion about the varying quality of the different brands.
A month or so ago, we were sailing out of the Agua Verde anchorage in the Sea of Cortez at the same time as Chez Nous, a 'Garden 51'. We pulled alongside to ask which yard had built her, how long the current owners had owned her, and where she was from. The answers came over the VHF. Chez Nous is a 1974 Imperial 51, hull #3, built by Formosa Boatyard. She's been owned for 30 of her 31 years by Al and JoLinda Garnier, and is based out of the Los Angeles YC in San Pedro. They tell us she's been a great boat for them. She sure looked lovely - particularly once the crew set all their sails so we could take the accompanying photograph. The Garniers had a lot of guests aboard, as they were participating in a Cruising Club of America cruise in the Sea of Cortez.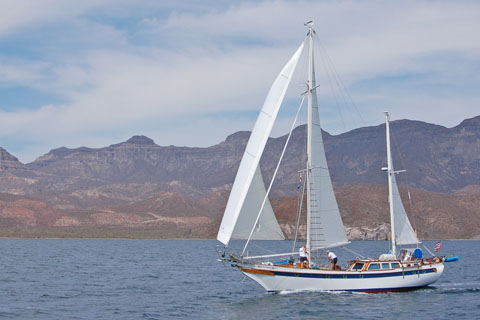 Photo Latitude/Richard
We used the same photo in the Blog of the Sea of Cortez feature in the July issue of Latitude 38, but inexplicably identified her only as being from Newport Beach! Our apologies to Al and JoLinda for that error.