The Other Hussong's
June 5 - Ensenada, Baja California
"We found it somewhat ironic that Ensenada's new 'super yacht marina and
resort' has apparently been named after a notoriously rowdy bar - Hussong's
Cantina," writes Latitude Senior Editor Andy Turpin. "Having grown up in SoCal, we recall that spending a wild, drunken night or two at Hussong's used to be seen as a rite of passage for every thirsty, under-aged kid in the Southland. These days, however, we're told that Hussong's has mellowed a bit, now drawing a somewhat older crowd who rarely pass out on the floor. Nevertheless it's still probably the most famous watering hole in northern Baja, and it is verifiably the birthplace of the margarita.
"It turns out that the Hussong family has partnered with Meridian Development Group, LLC, to build the new Porto Hussong Resort complex. When completed, it will include a 'state-of-the-art' marina, which will be able to handle 250 yachts up to 200 feet in length, as well as a five-star boutique hotel, shops, restaurants, condos, vacation rentals and luxurious gated homes. The anticipated date of completion of the 16-acre beachfront complex has yet to be announced, but we're certain that the marina will draw plenty of tenants, as more and more megayachts are being purchased by Californians with no berths to put them in."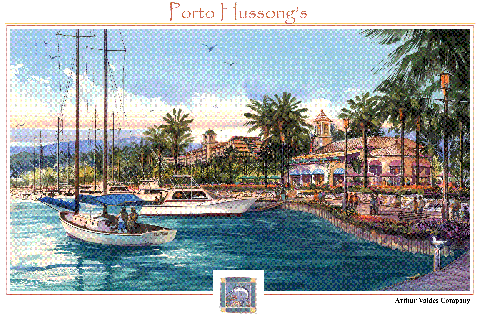 Porto Hussong's developers promise top-notch facilities.
For more info, see www.portohussong.com.