An Unusually Warm Master Mariners on Saturday
May 31 - San Francisco Bay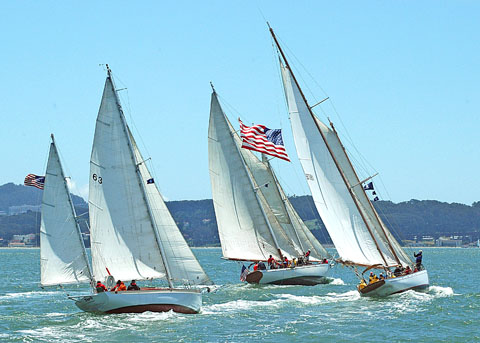 The schooners Teré, Volunteer, and the San Diego-based Dauntless engage in a great battle to windward on the way from Little Harding to Blackaller.
It was rather unusual Master Mariners weather last Saturday, as the fleet of 65 classic boats experienced mostly inconsistent winds that were often light, even in the Central Bay. At the Southampton leeward mark to the east of Angel Island, the wind temporarily died completely for much of the fleet. While no elapsed time records were set, it was unusually warm and sunny, and a great time was had by all. Started way back in 1867, and revived in 1965, the Master Mariners Regatta is the oldest on the Bay - and probably the West Coast.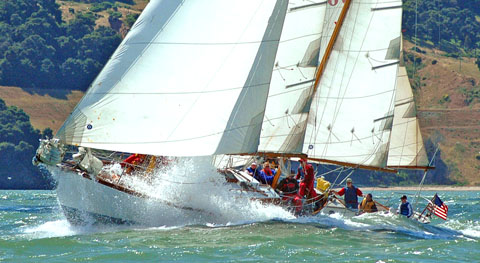 Dee Dee Lozier's Stroma of Mey ploughs through a tug wake on her way back to weather behind Angel Island.
Results - 65 boats started (16 were DNF) in 10 divisions.
Birds - 1) Robin, Pat and Cissy Kirane; 2) Curlew, Jim Josephs (4 boats)
Big Schooners - 1) Seaward, Alan Olson; 2) Gas Light, Billy Martinelli (3 boats)
Gaff 1 - 1) Brigadoon, Terry Klaus; 2) Yankee, John McNeil (5 boats)
Gaff 2 - 1) Dutch, Dick and Frances Dugdale; 2) Pearl, Nick Haynes (9 boats)
Marconi 1 - 1) Santana, Paul Kaplan; 2) Bolero, Tim Murison (11 boats)
Marconi 2 - 1) Sunda, Ian Rogers; 2) Nautigal, Jeff Stokes (14 boats)
L-36 - 1) Leda II, David James; 2) Papoose, Allan Edwards (4 boats)
Marconi 3 - 1) Flotsam, Brad Clerk; 2) Vixen, Steve Kibler (5 boats)
Bears - 1) Trigger, Alice Merrill; 2) Bongo, Jill Lutz (5 boats)
Ocean - 1) Odyssey, Audrey Steele Burnand; 2) Ouessant, Gene Buck (5 boats)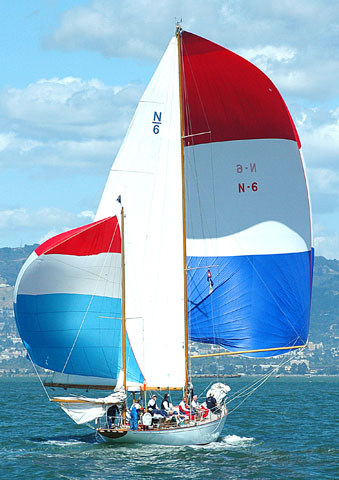 Audrey Steele Burnand's lovely yawl Odyssey, flying a rarely seen mizzen spinnaker, turned in one of the best performances of the day to win the Baruna Trophy and the Ocean Racing Class.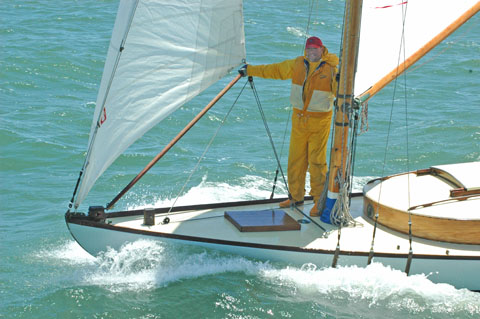 This human barber-hauler on Steve Kibler's Vixen helped her to a second place finish in class.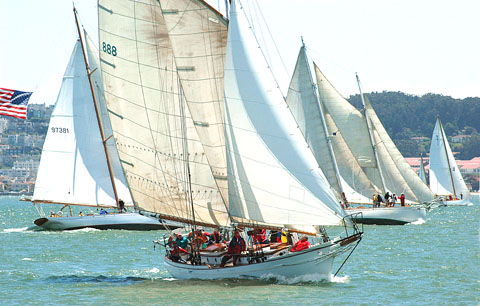 Terry Klaus sailed his schooner on the course less traveled to claim first in the Gaff 1 division.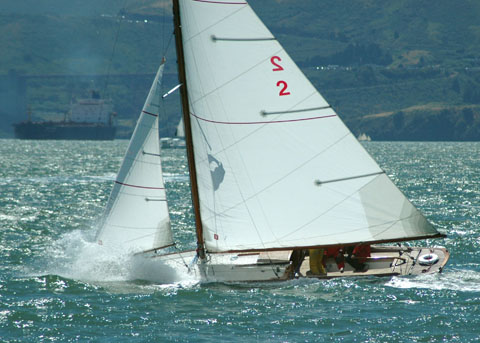 Curlew, Bird Boat #2, finished second in class by about 90 seconds.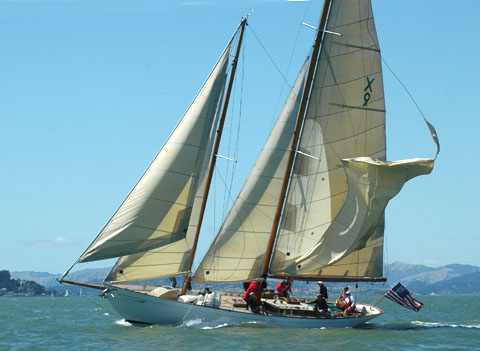 Santana, Paul and Chris Kaplan's famous schooner, reaches for more power after rounding Southampton. Humphrey Bogart's old boat won her class and turned in one of the best performances of the day.
Photos Latitude/JR
Lots of cameras were busy clicking away over the weekend, and we haven't finished organizing the hundreds of resulting images, but we plan to have more shots from Master Mariners and some from the Spinnaker Cup on Friday. Also see the July issue of Latitude 38 for more!