John Arndt's Complete Memorial Day Sailing Weekend - and Visit with the Mayor of San Francisco
June 2 - San Francisco Bay
We're proud that here at Latitude, our staff are really into sailing. For example, check out what Advertising Manager John Arndt did with his Ranger 33 over the Memorial Day Weekend:
"With a great weekend weather forecast, we started with our regular Friday night race at the Corinthian YC. The northerly breeze whisked us on a reach around Yellow Bluff and back so fast that after finishing we decided to go around again. Little did we know we'd get a DNF because the race committee didn't see our first finish, and thought our second finish was our first.
"Saturday was planned as an afternoon sail with our friends the Krebs, but our trusty Atomic 4 bailed on us. Fortunately, our friend Scott Jackson with the Hylas 54 Aleta had called asking us to join him. So we were able to upgrade our friends' afternoon sail from our 1974 Ranger 33 to this sparkling Hylas - which took us on a leisurely loop around Angel Island for Saturday afternoon.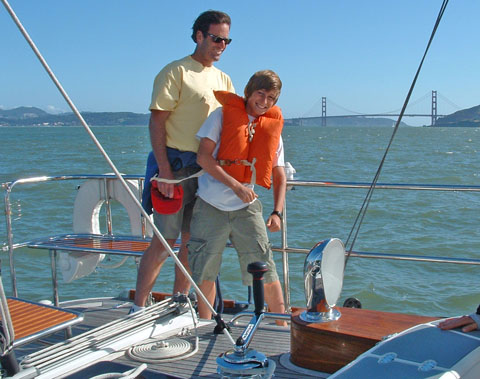 Aboard Aleta
"Sunday, after miraculously managing to fix the Atomic 4, we were back to join our friends the Tulls with their Beneteau 321 Bella Luna and the Neukranzs with their Catalina 400 Madcat for a cruise to the Cityfront and an overnight at the St. Francis YC guest berths.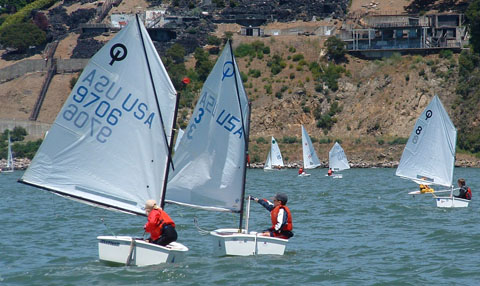 Bay Area Youth sailors
Our sail took us to Sausalito, where we checked out the BAYS regatta (see photo above) being run by the San Francisco YC, and then our daughter Sarah took us up to the Sausalito waterfront where we found our advertising customers, Bill and Vicki Burkart, of The Outboard Motor Shop, comfortably settled in at anchor for a few days aboard their Vagabond 47 Blue Heron.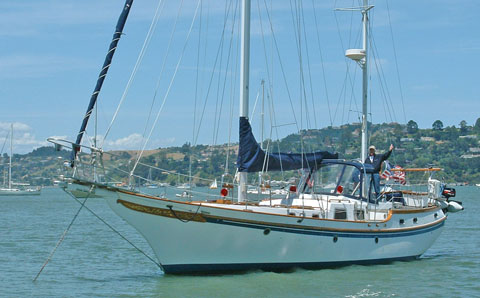 Blue Heron
"After tying up at the St. Francis guest docks, we took a stroll up Crissy Field to watch some more sailing action - kiteboards and windsurfers. Then, it being Memorial Day Weekend, we took a longer walk to the Presidio cemetery, where we got another great view of sailing the Bay.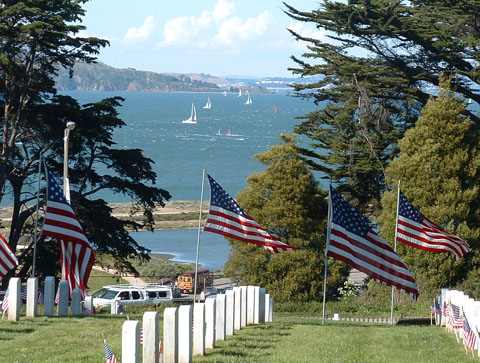 The Presidio cemetery the day before Memorial Day
"We settled in on the boats for a drink before walking up to Lombard Street for Mexican food at La Barca (keeping with the boating theme). We ran into San Francisco Mayor Gavin Newsom, who came over to our table to greet all of us. The six kids in our group - all girls! - were mighty impressed to meet the Mayor of San Francisco in person.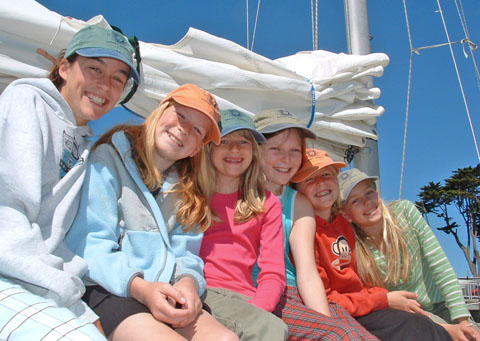 The girls, all vets from last summer's Delta cruise, gathered on the cabin top.
Photos Latitude/John Arndt
"We awoke to perhaps a not-so-rare perfect morning in San Francisco, tucked in at the St. Francis. After a stroll along one of the world's most beautiful waterfronts, we took the early sail back across the Bay to our berth in a very pleasant 12 knots of wind and a flat-water flood to end a perfect Memorial Day weekend under sail. It doesn't get much better."