Donald Trump Buys Marina Village Yacht Harbor, Plans Skyrise over Existing Marina
May 24 - Alameda
After being the object of much interest by prospective buyers over the past six months, Marina Village Yacht Harbor in Alameda has been sold to New York real estate mogul and world-class narcissist Donald Trump. In return for donating half the property to the city for much-needed parks, the city has granted Trump the right to build a 66-story luxury condo project with - get this - the marina continuing to occupy what would normally be the bottom four floors!
"I was the top bidder," The Donald explained, "because only I was smart enough to realize that Alameda is very much like Manhattan." When asked to explain himself, the flustered Trump said, "They're both almost completely surrounded by water, you dummy!"
"Thanks to my leadership and that of the Trump Estuary," said the man once known as 'Ivana's husband', "Alameda is going to become the Manhattan of the West Coast, while San Francisco will ultimately be relegated to the New Jersey of the West Coast."
After the deal was closed, Trump had two words for the current - and very popular - Marina Village Harbormaster, Alan Weaver: "You're fired!"
"I feel like I'm on television," responded Weaver with his trademark laugh.
"Just kidding," said Trump, jabbing Weaver in the ribs. "You're my new apprentice!"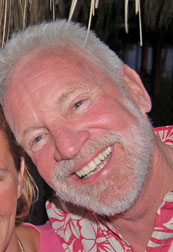 Harbormaster Alan Weaver won't be going to Mexico quite yet, after all.

All right, enough fooling around, here's the real story:
Marina Village was purchased in March by developer Steve Meckfessel and a group of investors. Longtimers may recall that Meckfessel was one of the early partners of the marina and, according to Harbormaster Alan Weaver, will not be implementing many changes.
The controversial 'condo-ization' issue was addressed in a letter Meckfessel sent to Marina Village tenants: "We have inherited the condominium map from the previous owner, however, at this time, it is our intent not to sell any individual condo slips for several years." This will be a relief to many who opposed the plan. However, there is a less welcome change that will start immediately - an increase in slip fees for slips over 40 feet.
The letter also announced that Weaver will stay on as Harbormaster at the marina. "I was offered a position in Mazatlan before we knew who was buying the marina," said Weaver, "but decided to stay when Steve bought it. I've known him for 15 years, so I can assure everyone that everything is going to be wonderful."