More Drama Caps Off the Volvo Ocean Race
May 22 - North Atlantic Ocean
In a stunning turn of events this weekend, the crew of ABN Amro Two turned into the wind once more, this time to come to the aid of the ailing movistar. Barely 24 hours had passed since they lost 32-year-old crewmember Hans Horrevoets, when movistar skipper Bouwe Bekking called for assistance.
The Spanish entry had been plagued with keel problems throughout the race and, on Sunday, they got worse. The boat was leaking badly and, considering the worsening forecast, Skipper Bekking made the tough call to abandon ship. The transfer of the 10 crewmembers was done while the boats were in the eye of a weather system and went off without a hitch.
This morning, the crew of movistar was transferred ashore while the body of Horrevoets is now aboard a Royal Netherlands Navy Frigate bound for his homeland of Holland. Seb Josse, skipper of ABN Amro Two, has chosen to finish the race in Horrevoets' honor.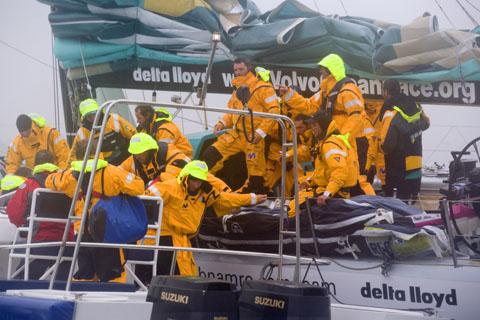 The movistar crew are transferred to a RIB to go to Falmouth, England
Photo Oskar Kihlborg/Volvo Ocean Race
"I have so much respect for Seb Josse and his crew for the mature and professional way they have handled all the events that have arisen on this dramatic leg," said Jan Berent Heukensfeldt Jansen, CEO of Team ABN Amro. "The seamanship displayed to recover Hans and then go to the rescue of fellow competitors is astounding. They are now continuing on to Portsmouth in the spirit of the race, as Hans would have wished."
The tragic events of last week have cast an understandable pall on the seventh leg of the race. As expected, ABN Amro One sailed across the line far ahead of the rest of the fleet, securing the overall win with two legs still to go. But what normally would be a huge celebration, filled with cheers and spraying champagne, was a more subdued event as crewmembers' thoughts dwelled on their lost teammate.
The projected overall standings of the 2005-6 Volvo Ocean Race are as follows:
1) ABN Amro One - 81 points (out of 87.5 possible points to date)
2) Pirates of the Caribbean - 55 points
3) movistar - 48 points
4) Brasil 1 - 48 points
5) ABN Amro Two - 45 points
6) Ericsson Racing Team - 43.5 points
7) Brunel - 7 points
To read more about the dramatic seventh leg, go to www.volvooceanrace.org.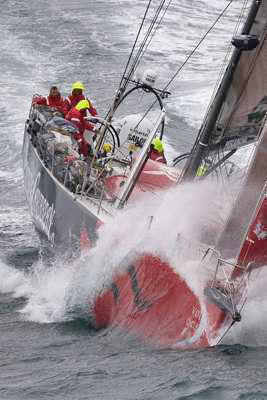 Pirates crossed the line in second place in Portsmouth, UK, at the end of Leg 7.
Photo Oskar Kihlborg/Volvo Ocean Race