Missing in Action at Big Daddy?
March 15 - Richmond Riviera
"Where the heck was Latitude's photoboat on Saturday?" asks Nick Salvador. "You guys missed Richmond Yacht Club's Big Daddy Regatta just because it was a little cold and wet?"
No, Nick, it wasn't the weather forecast. Our Bertram 25 photoboat had been living on borrowed time, and apparently has breathed her last. The mechanic was able to finally get one engine going early in the week, but come Saturday the normally more reliable other engine refused to roll over. Pissed us off more than you can imagine. Christine Weaver, one of our staff members, managed to fire off a few good shots while racing, and LaDonna Bubak, the newest addition to our editorial team, managed to get some at the party that night (see below).
After several months of searching, we've made an offer on a replacement photoboat, but she's a long ways away, and the boat and engine surveys haven't been done. So we're not going to have a replacement photoboat on the water for weeks. In the meantime, if your organization has a big event coming up and you want photo coverage, maybe our photographers can hitch a ride on your crash or committee boats. Gracias.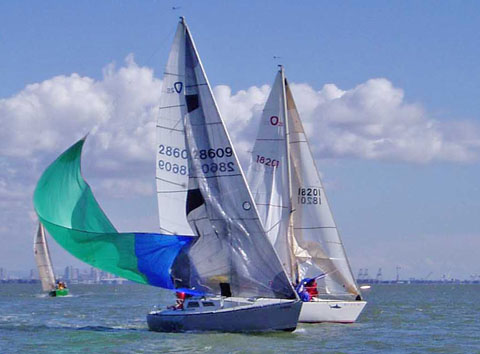 Saturday's racing actually took place under sunny skies, with just a few puffy clouds ringing the Bay, and wind building from light to breezy. In this shot, the Olson 25 Clean Sweep works on getting their chute down. Sistership Shark on Bluegrass was quicker. The green boat is the Moore 24 Highway 101.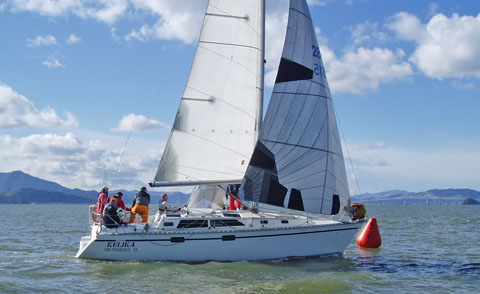 Kelika, a Hunter 33.5, approaches what was supposed to be the leeward mark in the third race on the Southampton course. The tight reach and the super short leg resulted in a spinnaker left in its bag on the bow.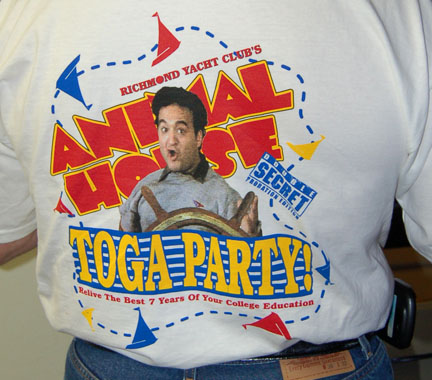 The T-shirt explains the theme of the shoreside activities. Note the wheel in John Belushi's left hand. Very nautical!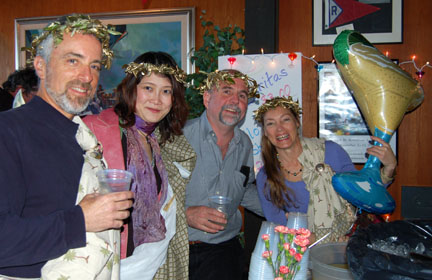 Bed sheets made into togas were the fashion statement in the clubhouse on Saturday night.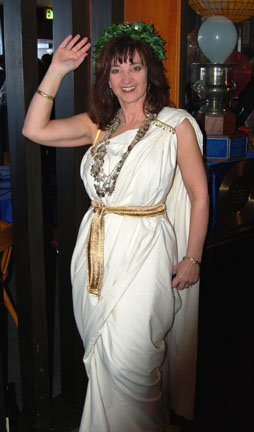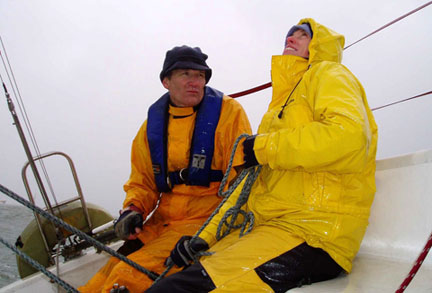 The forecasters got it right on Sunday, as the rain and cold more than made up for taking the day off on Saturday. Nevertheless, 68 entries stuck it out and finished.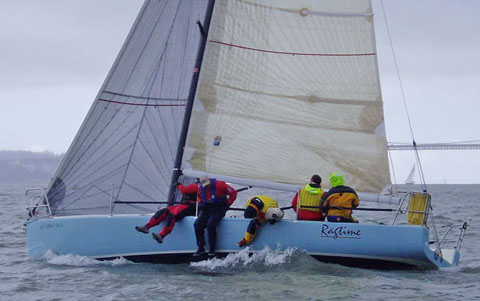 "Puff off!" It was puffy too, as you can see from the crew on the J/90 Ragtime, who had been hiking hard just before this shot caught them getting their feet dipped in saltwater.
Sailing Photos Alan Smithee and Latitude/Chris
Party Photos Latitude/LaDonna
For complete results, you can see www.richmondyc.org, but we can tell you here that the Sydney 38s were the big winners of Sunday's Big Daddy Pursuit Race, taking first, second, third, seventh and eighteenth. The top boat was Thomas Thayer's Howl.