Rick Wesslund's Tiburon-Based J/120 El Ocaso Is PHRF Boat of the Week in Florida - Again!
March 13 - Miami, FL
Think you're having a case of deja vu all over again? Relax, because in January Wesslund and crew were PHRF Boat of the Week with El Ocaso at Acura Key West Race Week also. They must love that winter weather in Florida.
Usually when a lifeline breaks and two crew fall overboard - which is what happened with El Ocaso in Race 10 - one's chances of winning a competitive regatta are toast. But Wesslund and crew clawed their way from last to fourth place in that race. And thanks to having won five of the first six races, they managed to hold on to win their division by just one point, and be named PHRF Boat of the Week at Acura Miami Race Week, held March 9-12.
Wesslund, who had been disappointed by the running of the regatta when he participated four years ago, claims that it has experienced a renaissance under Premiere Racing management. "We'll definitely be back next year," he said.
In the most glamorous division of the event, Philippe Kahn and his Santa Cruz / Tiburon / Honolulu-based Pegasus 52 went into the last race of the inaugural Rolex TP-52 Global Championship with a .75 point advantage, but was nipped in the final two races by Eamon Conneely and his Ireland-based Patches. That gave Patches honors and dropped Pegasus to second.
In another hard-fought battle, Northern California navigator Mark Rudiger called the shots aboard the Swan 601 Moneypenny as she nipped the Kera 55 Aera on a tiebreaker. That's about as close as you can get.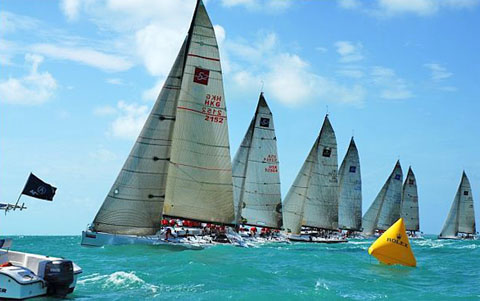 Start of the very competitive TP-52 class
Photo Doug Berman
As you can see from the photos, the racing conditions for the 140 boats from 10 countries and 22 states were about as good as one could hope for.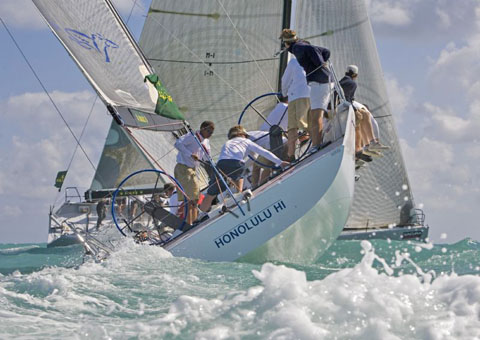 Pegasus 52 (foreground) crosses tacks with Stay Calm. The latter, a pre-race favorite, ended up sixth.
| | |
| --- | --- |
| | This spectacular work of art is also the TP-52 Global trophy. It was donated by TP-52 Executive Director Tom Pollack and founding member Jim Demetriades. |
Photos Daniel Forster
Northern Californians were also acquitting themselves proudly a bit farther down island. Roger Sturgeon's TransPac 52 Rosebud sailed to second in the March 3-5 Heineken Regatta in St. Maarten behind defending and once-again champion, Tom Hill's R/P 75 Titan XII.