The Next Baja Ha-Ha Isn't for Nearly a Year, but Two Boats Have Already Signed Up
November 18 - Newport Beach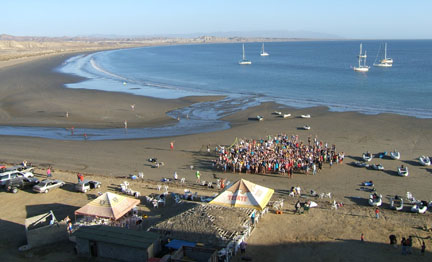 Turtle Bay Beach Party
Photo Latitude/Richard
And not just any boats, but the legendary S&S 80 Kialoa III that established truly international maxi racing, and the 65-ft S&S Alaska Eagle, veteran of two Whitbread Around the World Races. As most folks know, both of these great yachts were donated to the Orange Coast College School of Sailing and Seamanship, under whose auspices they will be doing the Baja Ha-Ha.
When we first mentioned in 'Lectronic that Orange Coast was going to do the Ha-Ha with Kialoa and Alaska Eagle, they were deluged with applications. But to be fair to folks who don't read 'Lectronic, they will also be putting the word out on their Web site at www.occsailing.com.
While Kialoa III will be number one and Alaska Eagle number two in next year's Ha-Ha, no other entries will be accepted until the event - which will start on October 30 - is formally announced next May. Until then, the Ha-Ha is in hibernation.