Cayard's Pirate Ship to Be Flown to Cape Town to Resume Volvo
November 16 - Cascais, Portugal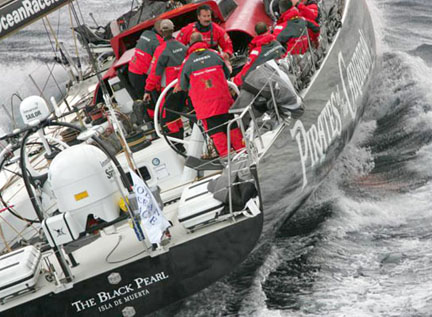 The Black Pearl picks up speed after the start of Leg 1 from Vigo.
Photo Daniel Forster
Here's the report from the Volvo Race after the Marin sailor's boat was damaged in the first days of the race: "Over in Portugal, in Cascais, the Pirates have been playing it close to their chests, but Paul Cayard has found the time to send out the following missive:
'We have now been in port for 36 hours. I know there are a lot of stories, rumors and thoughts going on around the water cooler, so I thought I would give you my perspective to add to your daily conversation. A couple of facts first:
'This is a race on points not time. This is not the Tour de France. This is more similar to the Formula 1 season where over 16 races, Michael Schumacher may not even finish three or four of the 16 races and yet still win the World Championship. There are 23 "events" in this race ranging in point value from 3.5 to 7. The maximum number of points available to be won is 112.
'These new Volvo 70s are high-tech machines. They are going to break down. Breaking down is not new to round the world racing. We are all learning about what it takes to keep these things together.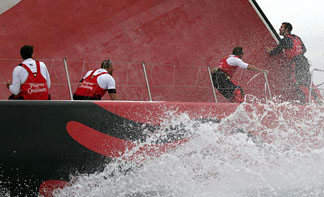 Crew on the foredeck of The Black Pearl hang on in rough conditions.
Photo Oskar Kihlborg
'We are going to return to the race and I feel that we have a good chance to win this race.
'Now, how to move forward. Option 1: Put a Band-Aid on the boat, sail for three weeks to Cape Town and collect 1.5 points, or possibly a few more points if others break down on this leg, arrive one day before the In Port race and basically go into Leg 2, one of the most difficult legs of the race, beat and not fully prepared. Option 2: Ship the boat to Cape Town, do the repairs properly, proactively seek out and improve the structural integrity of the boat in areas that have not yet broken, sea trial the boat offshore for three days before Leg 2, and enter the In Port race and Leg properly prepared. We are going for Option 2.'
Movistar, the favored Spanish boat that was also knocked out, has been hauled out of the water in Spain and found to have had much more damage than anticipated. "As the dripping hull lifted clear of the water, the first tip of a shattered daggerboard broke the water, then a dented keel fin, finally a carbon fiber rudder with the tip sheared off as though with a knife." It's now believed they hit something as opposed to having had a structural failure. Repairs will take a minimum of two weeks.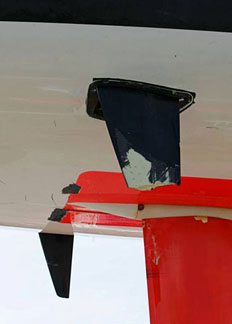 Damage to the keel fin and port daggerboard on Movistar
Photo Maria Muiña/movistar sailing
All Photos Courtesy www.volvooceanrace.org