KKMI to Host Fleet Week After Party
October 5 - Pt. Richmond
'Lectronic readers are invited to The Ultimate Fleet Week After Party: An Evening with Swans & Other SuperYachts. A magnificent collection of Swans and 'SuperYachts' will be on display at KKMI, including the current record holder to Hawaii, 86-ft racing sloop Morning Glory and Larry Ellison's America's Cup yacht, 80-ft BMW Oracle.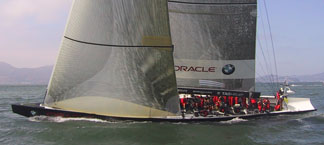 BMW Oracle
Also available to view will be the Swan 41, 60, 601 and 651; plus a 1998 96-ft luxury motor yacht and a 1992 92-ft cruising sailing yacht.
In addition, to celebrate the first Swan 601 in the United States, Moneypenny will be christened. "Please join us," writes KKMI's Paul Kaplan, "on Saturday, October 8, 2005, 5-8 p.m., at KKMI in Point Richmond. Hors d'oeuvres and a champagne reception will precede the christening."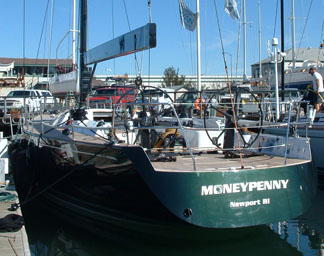 Moneypenny
Photos Courtesy KKMI
For more information, or to RSVP (by October 7), contact Erica Kaplan (510) 235-5564 ext. 125. "Call today as there are limited reservations," adds Paul.