Biggest Buccaneer Days Ever
October 3 - Two Harbors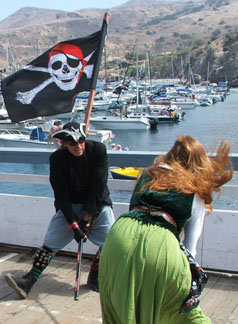 The fun started on the pier with some traditional dancing by Baja Ha-Ha vet Bruce of the trimaran Migracion and his crew.
Buccaneers and their wenches have been gathering at Two Harbors, Catalina, in early October for some 16 years now, but never in greater numbers than this year. There were 720 boats on moorings, plus 15% with raftups, plus 166 anchored, for a total of about 1,000 pirate boats! No pirate or wench wanted to miss this end of the pirate season shindig. Heck, one reveler came all the way from Annapolis.
There were a number of organized activities and competitions for children and adults ashore on Saturday, but we can't tell you anything about them. We'd gone to the patio bar at 1 p.m. for a glass of lemonade, but it was so crowded that we weren't able to escape until shortly after midnight. It was a cruel fate, to be sure, but didn't compare to the suffering of the bartenders. Most of their pouring arms became so sore from the millions of drinks they served, that the ship's carpenters had to cut the useless limbs off with rusty saws. In true buccaneer tradition, the arms were barbecued and passed off as mutton. "Tastes like chicken!" said one looped pirate who did a jig while he ate.
There was a run on the supplies in the Pirate's Den, of course. The General Store quickly ran out of push-up bras and the new line of Johnny Depp eye make-up for men; there wasn't a drop of Jack Daniels to be found after midnight; and the pirate breakfast buffet quickly ran out of food.
| | |
| --- | --- |
| You couldn't purchase a natural look like this at the pirate store. | "It's not make-up, I've just had a couple of late nights." |
With diesel selling at 4.90 doubloons a gallon, there wasn't much interest - at least not as much interest as in two naked wenches who were towed through Cherry Cove by a guy in a dinghy. Hey, they were flailing around in the water and we thought they needed help.
For the number of people and the amount of liquor consumed, there were very few problems. Sure, there were the expected minor squabbles in the back bar, a couple of people puked in places they shouldn't have, and when a couple having sex against the side of the little red schoolhouse set off the motion-sensor light, about a half dozen couples were exposed in a state of fragrant delecto or whatever you call it in Latin.
All in all, a great time for all who participated and a great job by the Two Harbors staff. You don't want to miss it next year.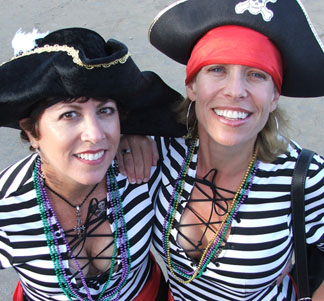 The wenches' new dental plan left everyone with a smile.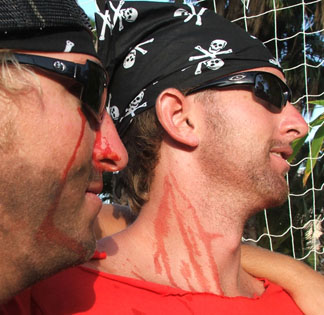 When a pirate gets a little bloodied, he doesn't need a handkerchief - at least not when there's a matey around.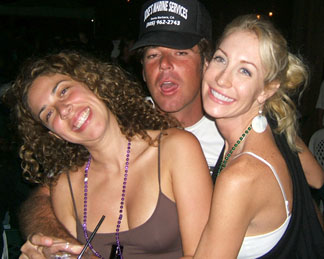 A few of the folks at Buccaneer Days didn't put too much thought into their costumes.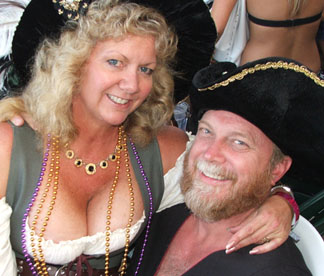 A happy foursome
| | |
| --- | --- |
| For wenches looking to settle down and raise some little pirates, there were plenty of good catches. | A couple of the piratesses head off to the Officer's Club for an afternoon grog. |
Photos Latitude/Richard