'Pirate Weather' Moves in to Southern California
September 30 - Two Harbors
Starting as early as Wednesday, many of the boats taking moorings at Two Harbors, Catalina, were flying pirate flags with sayings like "Surrender The Booty!"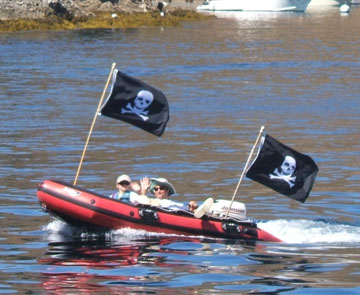 Even Dads are teaching their infants the pirate ways.
And on Thursday morning, cannon after cannon thundered, reverberating as far back as the frozen foods section of the General Store. We can only imagine what it's going to be like today, Friday. That's because tomorrow is Buccaneer Day at Two Harbors, which might be tame enough for kids during the afternoon, but when night falls, becomes Catalina's most exotic, erotic, 'what happens on the island stays on the island' time of the year. The men all get kitted out as swashbucklers and amp up their testosterone, while the women put on the heavy makeup and wench outfits and display all the cleavage they can muster. And then they start drinking and dancing.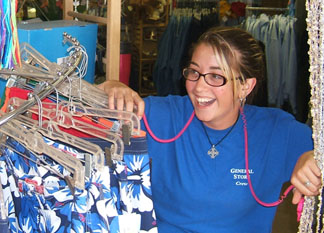 "Yes," says Jennifer in the General Store, "we've got a full supply of pirates flags and other gear."
Photos Latitude/Richard
Buccaneer Day is wild enough most years, but this year there are Santa Ana conditions - hot and dry winds from the desert - that are expected to last through the weekend. Santa Ana conditions are believed to mess with the ions in the air, which in turn are said to cause lots of humans to act more strangely than normal. In other words, the pirate-like behavior is expected to be multiplied by a factor of two or more. So sharpen your cutlass and watch out for the frozen water balloons.
Traditionally, Buccaneer Day sees some of the worst anchoring of the year at Two Harbors, with lots of poorly anchored boats dragging. If you wake up on the beach in the morning with hardly any clothes on, your mouth full of sand, and unable to find your boat, check a half mile out at Harbor Reef. That's because your boat probably dragged, and the Harbor Patrol tows all dragging boats out to the reef and anchors them there.
Normally we think Harbor Reef is the greatest place to anchor. And today, the water was flat with visibility of 50 feet or more. But we've bailed and taken a mooring because we don't want to play 'bumper boats'. It's going to be very active on the reef anyway, because for the second year in a row, Buccaneer Day coincides with the start of the lobster season. So starting at midnight on Buccaneer Day, all the lobster divers jump in the water, many of them on Harbor Reef. Divers tell us there are lots of lobsters around and they are "tame enough to pet". Come Sunday morning, they're going to be frightened as hell of anything resembling a human.
So everyone have a great - and safe - Buccaneer Day. By the way, if you don't know your 'pirate name', Pete Caras of Foxen reports there is a special Web site - www.fidius.org/quiz/pirate - that can help you out.