Photos of the Day
July 25 - Honolulu, HI
Today's Photo of the Day is of Hasso Plattner's MaxZ86 Morning Glory crossing the Diamond Head finish line off Honolulu in the early hours of Sunday morning. If you can't see much detail, it's because she finished shortly after 0200. The second photo shows Plattner and crew - that's three-time America's Cup winner Russell Coutts at the far right - at the dock a short time later.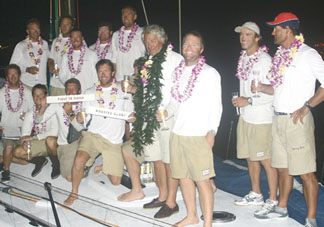 Photo Courtesy Rich Roberts
Morning Glory's time of 6 days, 16 hours was nearly a day better than the old record held by Roy Disney's previous Pyewacket. The giant sloop with the canting keel averaged 13.9 knots for the 2,225 miles of the mostly light air TransPac. We can only imagine what she could have done had it been a windy year. Disney and his crew aboard his MaxZ86 Pyewacket gave Morning Glory a good fight, but finished about two hours later. This was Roy's 15th and final race to Hawaii. Also breaking the TransPac elapsed time record were Randall Pittman's 90-ft Genuine Risk, Doug Baker's Magnitude 80, and the DeVos family's 86-ft Windquest.
The race for corrected time honors is going to be a tight one, with two Northern California boats currently in the best spot. Philippe Kahn's new TransPac 52 Pegasus has about a half-hour lead on Roger Sturgeon's TransPac 52 Rosebud.