Northern California Boats Hold Glamor Spots in TransPac
July 22 - Pacific Ocean
As of yesterday morning's report, Hasso Plattner, who has a house in Northern California and his MaxZ86 Morning Glory have the best shot at a new TransPac record - although at least four boats are on pace to smash the old one. This despite only light to moderate winds. Morning Glory was nearly 70 miles closer to Honolulu than her nearest competitors, Pyewacket and Genuine Risk, having made a big gain on both of them yesterday with her 339-mile run.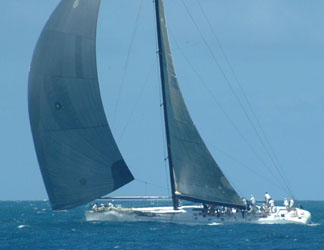 Morning Glory, as she looks streaking across the Pacific in moderate conditions.
Photo Latitude/Richard
But when it comes to corrected time, a couple of Northern California TransPac 52s are leading the way. Philippe Kahn, who now lives in Santa Cruz and Tiburon, and his brand new Pegasus had about a one-hour lead over Roger Sturgeon's Santa Cruz-based Rosebud. Third overall was the oldest boat in the fleet, the Spencer 62 Ragtime, which has been doing the TransPac for more than 30 years.
The first boats are scheduled to arrive off Diamond Head on Sunday morning. But it's going to take a lot longer for James and Ann Read's San Francisco-based Stewart 43 Camille. We're not sure why, but they've only been averaging 3.8 knots, and after well over a week are only one-third of the way there. we hope they bought a lot of food.