Biggest and Fastest TransPac Boats off to a Fast Start
July 18 - Los Angeles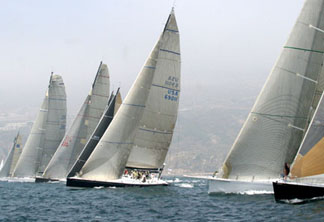 The big boats hit the line off Pt. Fermin at top speed.
When the slowest boats started the Los Angeles to Honolulu TransPac last Monday, it took some of them 24 hours to pass Catalina. When Roy Disney's MaxZ86 Pyewacket led the big boat fleets past the island yesterday afternoon, it had only taken them 1 hour and 45 minutes from the start. The 10 knots or so of wind they had was better than the early starters, of course, but these big new boats are just soooooo fast. While only light to moderate winds are expected for this year's race, it's nonetheless expected that the course record will fall. Furthermore, with the earlier-starting boats having seen their handicap time frittered away in light winds and overcast skies, it's very likely that for only the fifth time in history a boat might have a clean sweep of first to finish, first overall, and first on corrected time. The leading candidates are Disney's Pyewacket, Hasso Plattner's sistership Morning Glory with Russell Coutts, and Randall Pittman's 92-ft Genuine Risk.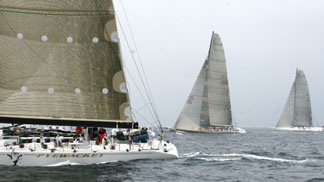 Within five minutes of the start, Pyewacket, Genuine Risk, and Morning Glory have pulled away from the other boats. We think one of them is going to take it all while setting a new course record.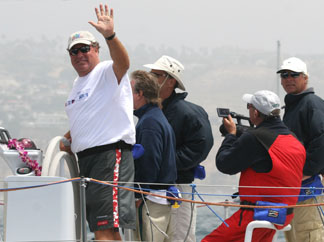 Pyewacket helmsman Robbie Haines gives a friendly wave while owner Roy Disney, in red, videos the action. Funny, you think he'd have somebody else doing that. Having made up with the Disney Corp. folks, Roy was able to start his final TransPac in a great frame of mind.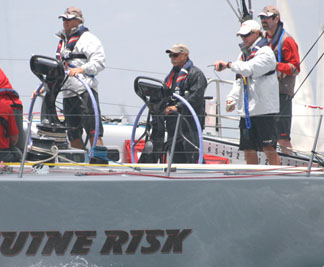 This shot of Genuine Risk is our favorite, not because of Dave Ullman at the port wheel, but because of the man at the back of the boat, navigator Mark Rudiger. One of the classiest acts in sailing, Rudiger, who was Cayard's navigator when they won the Whitbread Around the World Race, was very ill for a long time. We take his presence on the boat as a sign that he's doing well. Damn, that's good news. A longtime resident of Marin, Rudiger later moved to the Sierra foothills.
Photos Rich Roberts