Is Paul Cayard Going to Skipper the Pirate Ship in Volvo Around the World Race?
July 15 - California
It's only 113 days to the start of the Volvo Around the World Race, formerly the Whitbread, to be sailed in the new highly powered Volvo 70s. For the general public, the biggest buzz has been about the Pirates of the Caribbean II entry that's obviously gotten the support of the Disney company that is making two sequels to the very successful - and quite entertaining - movie. Like all good pirate endeavors, this one is shrouded in mystery. It's known that the 'pirate ship' was designed by Bruce Farr and is being built at Green Marine in the UK. But there's no word about the skipper or crew.
The last two runnings of this race were won by boats skippered by sailors who hail from the St. Francis YC and live in Marin Country - Paul Cayard and John Kostecki. As such, they would be logical choices to be skipper. Kostecki, however, is fully committed to the Oracle BMW America's Cup campaign, so it won't be him. What about Cayard? He's eight years older than when he did it last time, and this is the toughest ocean race in the world, so who knows if he'd be interested at any price. Nonetheless, the word along the dock is that he'll be involved to some extent, as will Southern California's Kimo Worthington. But so far it's nothing but rumors. That's got to change before too long.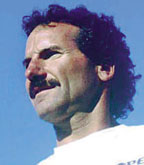 Paul Cayard