Hoag Regatta
May 23 - Newport Beach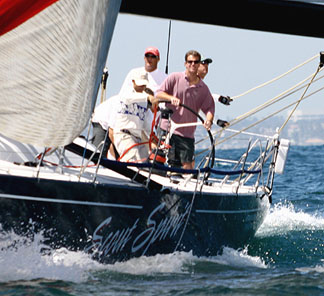 David Team at the helm of Scout Spirit
Rich Roberts reports:
Randall Pittman's slippery fast Genuine Risk - named for a Kentucky Derby winner - looked like a thoroughbred of sailboats Sunday as it galloped away from Roy Disney's Pyewacket in the last two races of the inaugural First Team Real Estate Invitational Regatta, organized by the Balboa and Newport Harbor Yacht Clubs to benefit Hoag Memorial Hospital Presbyterian.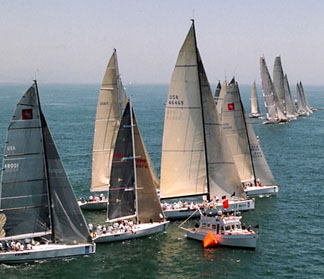 A crowd at the committee boat end of the starting line
Genuine Risk found its legs by switching to a larger headsail, but the big Dubois 90's problem was that it just ran out of track. Pyewacket - named for a movie witch's mystical cat - won single races Friday and Saturday while Genuine Risk suffered a second and third, leaving Disney's Reichel/Pugh-designed maxZ86 atop Class 1 by a single point.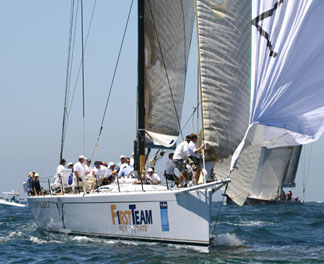 Pyewacket leads Genuine Risk (right)
If the event's scheduled fifth race had been sailed, G.R. might have had a shot. As it was, principal race officer Mike Wathen's committee, bedeviled all weekend by fluky winds brought on by an unwelcome high-pressure system, did well to finish with a pair of races Sunday in single-digit breeze - and those were shortened from two laps to one around a three-mile windward-leeward course.
Genuine Risk tactician Bill Hardesty, who had won the prestigious Lipton Cup for San Diego Yacht Club on the same waters in similar conditions a week earlier, gave credit to other members of Pittman's afterguard, including Dave Ullman and the owner himself. The San Diego boat never gave itself a chance with poor starts the first two days, but on Sunday they left the gate flying.
"Randall drove the starts and upwind legs," Hardesty said. "He's a very good sailor. And Dave is the wizard of these kinds of conditions."
Also on board: one of the world's great ocean racing navigators, Mark Rudiger, in a comeback to competitive sailing since being stricken with lymphoma last year. Pittman had been holding a spot on the crew for him.
The other class winners on corrected handicap time were Paul and Laura Sharp's 19-year-old R/P 68, Taxi Dancer, from Newport Beach in Class 2 and the Oscar Krinsky/Walter Johnson 1D-48, Chayah, from Long Beach in Class 3. See www.nhyc.org for full results.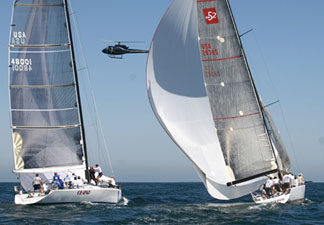 The 1D-48 Chayah (left) defends lead position against the Transpac 52 Rosebud.
Photos Rich Roberts/underthesunphotos.com