Photos of the Day
May 20 - Bahia Caraquez, Ecuador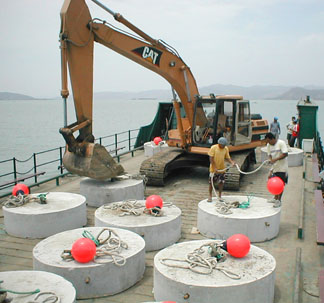 Getting ready to set some hefty new moorings
Today's Photo of the Day is of some of the 22 moorings that are being put in place at Bahia Caraquez, Ecuador, by ex-cruisers Gary Swensen, former boat unknown, and Tripp Martin of Walkabout. Martin says that he came planning to stay for a couple of weeks, but "found the friendliest people I've come across since cruising, a safe town where I can walk anywhere, cheap food - $1-$2 for lunch - and a storm, lightning, and mold-free climate." Then he met Swensen, who had married a local girl and was in the process of putting in 10 moorings and a dinghy dock at what he was calling Puerto Amistad. So Martin went partners with him and added 12 more moorings. Martin says their marina is "by cruisers, for cruisers" and will feature a bar, restaurant, bathhouse, dinghy dock, and so forth. The 5,000-lb concrete and steel moorings go for $125/month.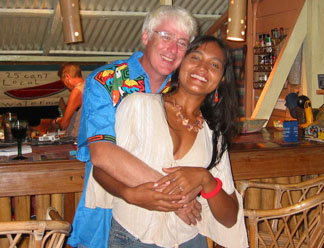 Tripp and his lady Maya at the Puerto Amistad Bar
There are usually 20 to 40 boats in Caraquez, a beach resort town that was severely damaged by El Niño in '97-'98, then a 7.2 earthquake the next year, and finally a white spot virus that cut shrimp harvesting by 10%. With the economy in shambles, Bahia, as it's known, has reinvented itself as an eco-city with a nice museum, beaches, surfing, whale watching, birding, hiking, mountain biking, and horseback riding. It's also just eight hours from Quito in the Andes. Bahia is 600 miles from Panama City.

Tripp handing the first burgee to some cruisers