Latitude 38 Crew Party Wednesday Night at Golden Gate YC
April 4 - San Francisco
No matter if you want to cruise, race, or daysail, if you need a boat to sail on, or need crew to help sail your boat, the place to be Wednesday night will be the Golden Gate YC On The Marina in San Francisco. For from 6 to 9 p.m., it will be the site of Latitude 38's annual spring Crew List Party, with hundreds of folks in attendance. There will be door prizes, munchies, and a great slide show.
Do people really hook up at Crew List parties? They do. Every year people on the Baja Ha-Ha tell us they got on a boat or got crew as a result of the party. As for the couple in this photo, Jay and Laurie Ailworth, they met at a Crew List Party, got married, and are now out cruising in Mexico. So yeah, good connections are made.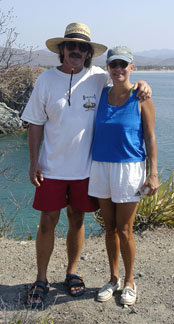 Photo Courtesy Jay and Laurie Ailworth
The party is free to everyone who signed up for the Crew List, and is $7 for all others. Click here for directions to the club. We hope to see you there.