Latitude Crew List Party Wednesday at Golden Gate YC
April 1 - San Francisco
If you're a skipper looking for crew, or crew looking for a boat to sail on, you don't want to miss the Latitude 38 Crew List Party to be held Wednesday, April 6, from 6 to 9 p.m. at the Golden Gate YC in San Francisco. There will be all kinds of people looking to do all kinds of sailing - plus door prizes, munchies, demonstrations, and a Ken Burns type slide show of recent Baja Ha-Has.
While the purpose of the event is to match skippers with crew for sailing, sometimes Cupid has been spotted shooting his arrows of romance. For proof, check out the Letters section in the April Latitude. So you do want to be careful.
Entry to the Crew List Party is free to those who signed up for the March or April 2005 Crew List, and $7 for all others. Please, please, please don't come early. The Golden Gate YC is located On The Marina in San Francisco, just to the east of the St. Francis YC, at the end of the spit.
Think you're too old to sail? Then listen to what 69-year-old 'hitchhiker' Luise has to say: "Thanks to Latitude, I'm getting a ride to the South Pacific aboard Frank and Brenda Keavy's Passport 42 Side Track. We're leaving around April 11, and I'll keep you updated on my travels."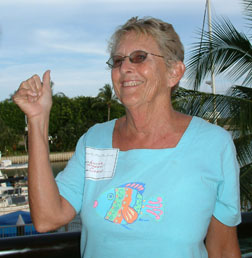 Photo Latitude/Andy