Key West Race Week
January 24 - Key West, FL
The 18th annual Key West Race Week, presented by Nautica, threw the full gamut of conditions at its international 295-boat fleet, which represented 14 countries and 36 states. The week started with a bang - a record-breaking feeder race from Fort Lauderdale, torrential rain over the weekend, and high winds for the first race on Monday. Things calmed down as the week wore on, and by Thursday afternoon, the wind had all but evaporated.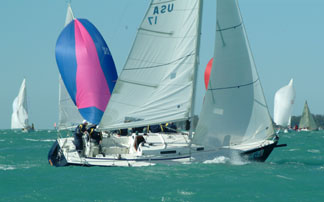 Masquerade, in its seventh KWRW appearance, finally won the J/105 class.
California boats fared exceptionally well at KWRW this year, taking all the important one design classes - Tom Coates's San Francisco-based Masquerade finally won - crushed, actually - the 40-boat J/105 class after knocking on the door the last two years; Hasso Plattner, a sometimes resident of San Francisco, sailed his Morning Glory to a close victory over Barking Mad in the Farr 40s; Chris and Kara Busch of San Diego topped the 1D-35s; Santa Barbara sailorette Deneen Demourkas took the Mumm 30s with Groovederci; and San Diegan Bill Hardesty battled his way to the top of the tough 57-boat Melges 24 class with Pegasus 575, earning coveted Boat of the Week honors in the process.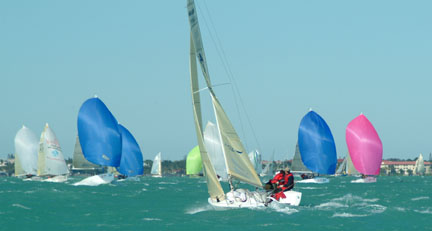 Santa Cruz-based Pegasus 575 en route to Boat of the Week honors
Rosebud, Roger Sturgeon's Santa Cruz-based R/P TP-52, ended up fourth in PHRF-1, behind Esmeralda, Titan and Sjambok. (Definition of irony: million dollar, state-of-the-art boats, staffed by paid professionals, sailing under PHRF). Tiburon, which is both the name and hailing port of Steve Stroub's J/105, also finished quite well, tying for third in the J/105 class, but falling to fifth on the tiebreaker. Check out www.premiere-racing.com for lots of pictures, press releases, and full results.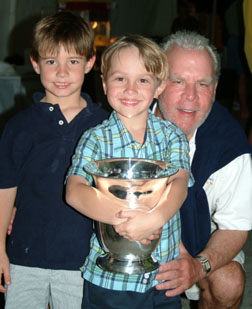 Tom Coates and part of his extended family
Top finishers follow:
SWAN 45 - 1) Better Than, Andrzej Rojek, Newport, RI. (6 boats)
FARR 40 - 1) Morning Glory, Hasso Plattner/Russell Coutts, Kiel, GER. (18 boats)
1D-35 - 1) Wild Thing, Chris & Kara Busch, San Diego. (10 boats)
MUMM 30 - 1) Groovederci, Deneen Demourkas, Santa Barbara. (14 boats)
J/120 - 1) Avra, George Petrides, New York, NY. (7 boats)
J/109 - 1) Rush, Bill Sweetser, Annapolis. (6 boats)
J/105 - 1) Masquerade, Tom Coates, San Francisco. (40 boats)
J/80 - 1) C'est Nasty, Rick Schaffer, Ft. Worth, TX. (16 boats)
C&C 99 - 1) Trumpeter, Bob Wilson, Toronto, ONT. (9 boats)
J/29 - 1) Hustler, John & Tony Esposito, City Island, NY. (8 boats)
TARTAN TEN - 1) Liquor Box, C. Simon/B. Buckles, Key West. (9 boats)
CORSAIR 28R - 1) Condor, Freudenburg/Hudgins, Sewalls Point, FL. (10 boats)
MELGES 24 - 1) Pegasus 575, Pegasus Racing/Bill Hardesty, Waikiki. (57 boats)
PHRF-1 - 1) Esmeralda, Farr TP-52, Makoto Uematsu/Ken Read, Newport, RI. (10 boats)
PHRF-2 - 1) Pretty Woman, Beneteau First 47.7, George Gamble, Pensacola, FL. (10 boats)
PHRF-3 - 1) Star, Melges 32, Jeff Ecklund/Harry & Hans Melges, Fort Lauderdale. (12 boats)
PHRF-4 - 1) Pamlico, Andrew 38, R. & K. Muller, Annapolis.. (9 boats)
PHRF-5 - 1) Remedy, Evelyn 32, John Fries, Mystic, CT. (13 boats)
PHRF-6 - 1) Usual Suspect, C&C 43, Bryan Sims, Bronte, ONT. (8 boats)
PHRF-7 - 1) Amethyst, J/27, D. Davies/A. Eppig, Glen Cove, NY, 12 points. (10 boats)
PHRF-8 - 1) Island Flyer, S2 7.9, Denny Manrique, Tonka Bay, MN. (12 boats)
KEY WEST RACE WEEK BOATS OF THE DAY:
MONDAY - Masquerade, J/105.
TUESDAY - Mean Machine, Farr 40.
WEDNESDAY - Joe Fly, Melges 24.
THURSDAY - Wild Thing, 1D-35.
FRIDAY - Gold Digger, J/44.
BOAT OF THE WEEK: Pegasus 575, Melges 24, Bill Hardesty.
PHRF BOAT OF THE WEEK: Star, Melges 32, Jeff Ecklund.
INTERNATIONAL TEAM COMPETITION:
1) USA East (Barking Mad/M-Fatic), 53 points; 2) Europe A (Mean Machine/Team SBAB), 72; 3) Europe B (Atalanti/Joe Fly), 73. (8 teams)