Express 27 Nationals
October - San Francisco Bay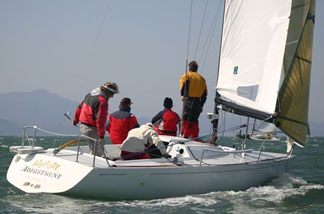 Attitude Adjustment in the Express 27 Nationals
Hosted October 1-3 by Richmond YC, the Express 27 Nationals crowned Soren and Liga Hoy as this year's champions. Their Attitude Adjustment beat out second place finisher Will Paxton's Motorcycle Irene and third place Tom Baffico's Baffett, as well as 22 contenders in eight races with one throwout. Liga Hoy comments:
"Our victory was a complete Attitude Adjusted Team effort. The five of us relatively big folks were actually 20-something pounds under the 880-lb Express 27 weight limit. Jeff Thorpe drove under all sorts of influences and pressures to ultimately pull it off - a truly professional sailor. J.V. Gilmour of RYC fame was the star bowman who didn't miss a jibe or a wind shift call as well as some critical equipment repairs. Deb Hong - a long-time Bay Area talent, who flew in especially from Portland, OR, was the 94-lb big spirited all-around back-up for everyone from bowman to backup trimming the brand spanking new kite (North). Soren Hoy called tactics and trimmed and I was trimmer and blue-handled wincher from rail. Our crew work was honed at the SFYC Summer Keel and the Express 27 Pre-Nationals Regatta the weekend before the Nationals, where the winds seemed to average 25 each weekend.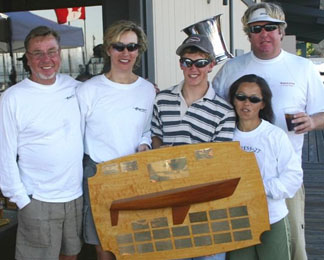 The winning crew with their trophy
Photos Ralph Deeds
"At the Nationals, we were especially spurred on by the relentless competitive spirits and superbly talented team efforts of all the other Express 27 crews on the water. We have Motorcycle Irene, Baffet, Swamp Donkey, Moxie, Chimo, Magic Bus, and many others to thank for keeping us awake and tuned in throughout all eight races. Jeff Zarwell did a great job as PRO, despite motor problems on Saturday.
"The one-of-a-kind Scott Easom winch drums led to Caribbean blue handles on topsides were critical in getting us on the rail and up to speed in the tacks, especially in the bigger wind (Saturday and Sunday) - they allowed the crew to trim the genoa and jib from the windward rail. The Donkey sailed by after the first race on Friday and asked, "What are those blue handles for?" At the RYC dock, many Express 27er's stopped and asked to pull the handles.
"If only Carl Schumacher had been there to see a 21st century Attitude Adjustment, his First Express 27 out of the Santa Cruz molds (hull #1) in 1982 win the 2004 Nationals and the 2004 Season Championship after a wait of 22 years. In spirit, he definitely was!"