Wild, Wild Sailing Weekend For Buccaneers
October 4 - Two Harbors
As we alerted you, Saturday was Buccaneer Day at Two Harbors, Catalina, which is their biggest - and wildest - weekend of the year. What a blast!
Our weekend started with a Friday afternoon screacher reach from King Harbor in Redondo Beach over to Two Harbors. The conditions were perfect, with a flat sea, warm sunshine - and the speedo stuck on 10.75 knots. It was ridiculously ideal. The weekend ended equally as good, with a sail from Bird Shit Rock right off Two Harbors to the Newport Breakwater, a perfect downwind sail in surprisingly breezy conditions.
But the big attraction of the weekend, of course, was Buccaneer Day, where children from five to 75 could let their inner child cut loose and be naughty for a change. Early in the day, there were all kinds of innocent games and activities. But by 4 p.m., the drinks were flowing and the patio dance floor was jam-packed. There was more cleavage on display on and around the dance floor than in a Frederick's of Hollywood catalog. And some behavior was so risque, we can't even show photos. That's right Tina, we can't publish the photos of you kissing the other wenches on the mouth. Come nightfall, a sardine would have felt crowded on the dance floor, and frottage was rampant.
But it was terrific. There must have been over 1,500 partying people, most of them drinking, yet we didn't see one unpleasant incident. Everybody was happy and festive, having a great time. And to top it off, a three-man maintenance crew got to work at 0400, and by breakfast the grounds had been completely cleaned up. Brilliant!
If you go to Buccaneer Day next year, we have one bit of advice - spend the $35 to get a real costume and you'll have twice the fun.
If you'd had been there, here's the kind of stuff you would have seen: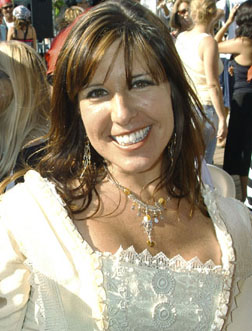 The beautiful and bold - this wench actually got married at Buccaneer Day!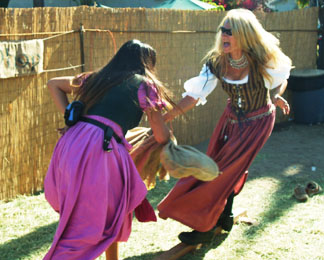 What buccaneer doesn't enjoy a good catfight?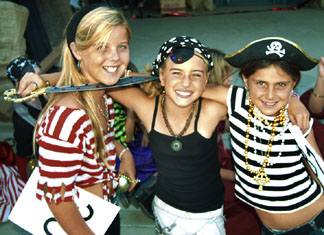 Buccaneer Day was even fun for these young ladies, all of whom are destined to break pirate hearts in about 10 years.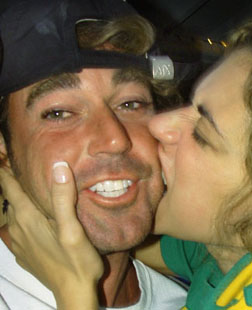 "You dance with another woman and I'll bite your cheek off!" Some wenches were unclear on the rambling nature of the buccaneer.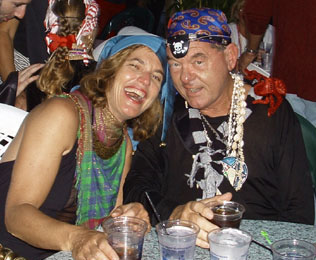 Dave and Hillary of the 70-ft cat Humu-Humu, crew aboard Profligate for the weekend.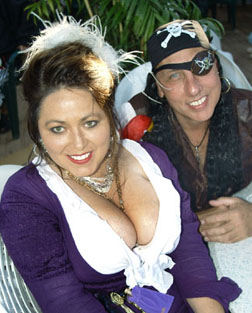 Here's a lovely couple, all dressed up to please the crowd.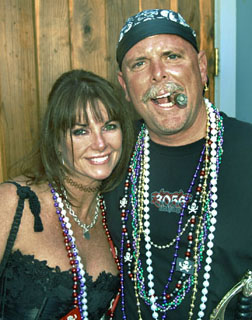 A buccaneer couple in the party mood.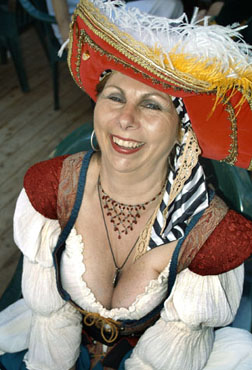 This woman may be a librarian in real life, but she was enjoying letting it all hang out for a day at Two Harbors.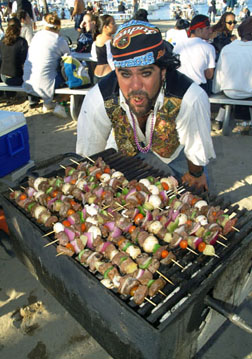 With all the drinking and wenching, even a Buccaneer has to stop for nourishment.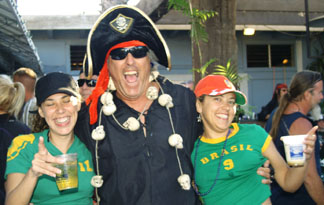 Say, that almost looks like the Grand Poobah warming up for the Ha-Ha with Brazilian mini-pirates Paula and Jennifer.