Photos of the Day: Singlehanded TransPac
June 25 - Tiburon
Today's Photo of the Day is of Alchera at the start of the 2002 Singlehanded TransPac from San Francisco to Kauai. We publish it in honor of the 24 skippers who are signed up for the Singlehanded Sailing Society's 2004 Singlehanded TransPac. If they all show up for the 10 a.m. start off the Corinthian YC on Saturday, it will be the third largest fleet to participate in the bienniel event that started in 1978. Illustrating the mercurial popularity of the race, 2002 saw the smallest fleet in race history, with only 8 boats making the crossing to Hanalei Bay, Kauai.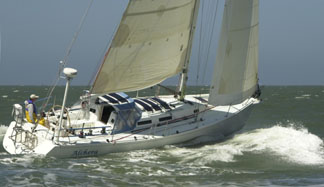 Mark Deppe and Alchera will be back for their third Singlehanded TransPac when the fleet starts tomorrow.
Photo Latitude/JR
If the wind is right, the big boat in this year's race - Al Hughes' 60-ft Dog Bark - could threaten the monohull record. Dog Bark is an Australian-built Open 60 that, as Jarkan Yacht Builders, placed fifth in the 1990-91 BOC Singlehanded Round the World Race under skipper (and builder) Kanga Birtles. Other notable entries include a three-boat Moore 24 'fleet', and 10 returning Solo TransPac veterans, including Ken Roper, who's back aboard his Finn Flyer Harrier for - count 'em - his eighth Singlehanded TransPac.
For more information on the racers, and for daily updates on their progress, log onto www.sfbaysss.org.
The list of entries follows:
DIVISION I
Dog Bark, Custom 60, Al Hughes, Seattle
DIVISION II
Surfinn, J/90, Ryan Finn, New Orleans
Rusalka, SC 40, Erik Schwartz*, Bath, ME
Alchera, J/120, Mark Deppe*, Alamo
Tiger Beetle, N/M 45, Rob MacFarlane*, Alameda
Joe, Hunter 54, Chuck Beazell*, San Jose
DIVISION III
Koinonia, J/35, James Graul, San Francisco
Zapped, J/33, James Tallet*, Seattle
Prankster, Olson 30, Frank Ross, Anaheim
Wenlemir, Swan 47, Wen Lin, Tiburon
Kaien, Waterline 45, Steve Saul, Mill Valley
Audacious, Peterson One Ton, Carlton Eshelman, Fairfax
Wisdom, Santana 3030, Alan Hebert, Menlo Park
Starbuck, Blacksoo 30, Greg Nelsen*, Oakland
DIVISION IV (Moore 24)
Cookie Jar, Moore 24, George McKay, Foster City
Moore Havoc, Moore 24, Mark Moore, Sausalito
Color Blind, Moore 24, Greg Morris*, Foster City
DIVISION V
Alegria, Camper Nicholson 35, Jim Teipen, Alamo
Sail a Vie, Ericson 30, Phil MacFarlane*, San Mateo
Ergo, Ericson 35, Bill Merrick, Sausalito
Harrier Finn, Flyer 31, Ken Roper*, Loryon, VA
Miss Laney, Ericson 30+, Daniel Alvarez, Pleasanton
Islander, Bristol 34, Barbara Euser, San Rafael
Haulback, Spencer 35, Jim Kellam*, Delta, BC, Canada
* Singlehanded TransPac veteran
For complete coverage, see the upcoming July and August issues of Latitude 38.