Delta Ditch Run
June 7 - Stockton
The 14th annual Delta Ditch Run, co-hosted by Stockton SC and Richmond YC on Saturday, was once again about as much fun as you can cram into a day of sailing. The weather for the 67.5-mile run up the river was perfect, featuring just enough wind to make it exciting at times. Bill Erkelens' D-Cat Adrenaline had a speedy ride, finishing the course first in 5:15:49, claiming multihulls honors in the process.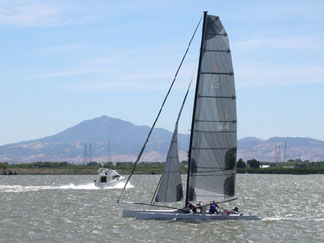 Adrenaline off Santa Clara Shoal, just down from Fisherman's Cut
Even more impressive was Don Jesberg's performance with his Melges 24 Ego. Sailing light with just Ricky Matthews and Steve Baumhoff, Jesberg led the monohull fleet wire-to-wire, finishing in 7:11:02. That topped the next boat in the 112-boat monohull racing fleet, Erik Urias' Wylie Wabbit Crash Test Bunny, by 15 minutes on corrected time. Even more incredible is Jesberg's record in the Ditch Run - this was the fifth year in row he has won it overall.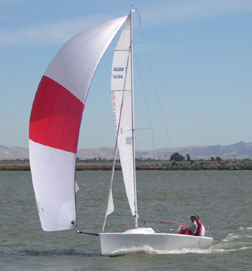 Ego, Don Jesberg's Melges 24
Class winners follow:
Heavy I - Yucca, 8-Meter, Hank Easom. (15 boats)
Heavy II - Marrakesh, Express 34, Craig Perez. (11 boats)
Heavy III - Happy Houka, Cal 27, Greg Goodman. (10 boats)
Heavy IV - Harmony, Columbia Challenger, Nancy Farnum. (7 boats)
Light I - Kodiak, Sierra 26, Kim Desenberg. (10 boats)
Light II - Hotfoot, Hotfoot 20, Jack Tatum. (6 boats)
Melges 24 - Ego, Don Jesberg. (14 boats)
Moore 24 - Pair-O-Chairs, Rowan Fennell. (19 boats)
Express 27 - Attitude Adjustment, Soren Hoy/Scott Easom. (13 boats)
Wylie Wabbit - Crash Test Bunny, Erik Urias. (10 boats)
Multihull I - Adrenaline, D-Cat, Bill Erkelens. (3 boats)
Multihull II - Wingit, F-27, Ray Wells. (9 boats)
Cruising - Ghost, 'Ticon', Bill Goldfoos. (8 boats)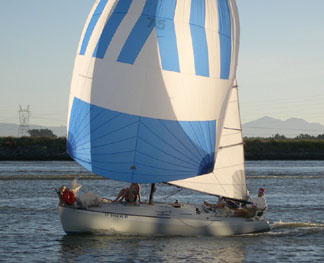 Pair-O-Chairs, finishing in the long shadows of 7:36 pm, topped the biggest division, the Moore 24s.
Photos John Dukat
See www.stocktonsc.org for full results, and see the July issue of Latitude 38 for more of our coverage.