Photo of the Day: Transat
June 9 - Boston, MA
Today's Photo of the Day is of the 60-ft trimaran Géant, sailed by Michel Desjoyeaux of France, who yesterday sealed his legacy as perhaps the greatest singlehanded offshore racer ever by winning the singlehanded Transat (ex-OSTAR) from France to Boston. He didn't just win the Transat, he crushed the old record by more than 36 hours, finishing in 8 days and 8 hours. For the actual distance he sailed, he averaged an astonishing 16.41 knots. Desjoyeaux has now completed the singlehanded offshore hat-trick: winning the Vendée Globe around the world race with his Open 60 monohull PRB in 2000, winning the brutal transatlantic Route du Rhum two years later when Géant was one of only three of the 18 multihulls that survived to finish, and now taking the Transat. All hail Desjoyeaux!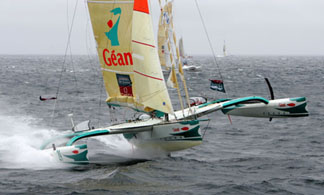 Photo B. Stichelbaut/Effets Mer Courtesy Géant
How tight was the racing in the multihull class? Both Desjoyeaux and Thomas Coville on the second-place finisher Sodebo agreed that it came down to Coville tacking 150 meters away from Desjoyeaux in the early going, which by the luck of the draw allowed Desjoyeaux to pull away.
And what of Yves Parlier's radical 60-ft double wingmasted, seaplane-hulled catamaran, Médiatis Région Aquitaine, which has hit as much as 36 knots in just 20 knots of wind? She's way off the pace - but that was expected. She's not an upwind boat like the trimarans, and the Transat is an upwind race. Further, they are still working out the bugs and details on this most radical boat. Look for her to do much better in the upcoming race from Quebec back across the Atlantic to St. Malo, an off-the-wind crewed race.
The monohulls should be finishing the Transat today. See www.thetransat.com.