Despite Boatbuilding Problems, Engle Sitting Pretty
May 19 - Auckland, New Zealand
"I believe that last update regarding the construction of our new 70-ft Shuttleworth cat was in late January," writes Don Engle of Northern California. We had just returned from the yard in New Zealand full of enthusiasm for a late April launch. Truth be told, the builder was blowing a little smoke - and before long it became obvious that the April date was not going to happen. It turns out that the boat has been more complicated and harder to build than the builder had planned. They didn't truly understand the strength and engineering necessary for an ocean-going sailing cat of this size. According to the builder, they are very upside down in building costs so far. They budgeted 27,000 man-hours to complete construction, and they have spent 49,000 man-hours so far. Ouch! There are about 12,000 more man-hours to go. The builder has tried to hold the contract price and eat the over-run himself, but this has caused the project to slow down. Now it seems the company is running out of money. We have to renegotiate the contract or he may go under. While this is not what we want to hear, it's not a rare occurrence when building big custom yachts. So we had to go back to New Zealand to try to get the project back on track.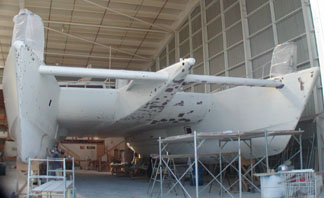 The gigantic cat at the yard in New Zealand
"We were to go to the yard in late April to sort this latest drama out, but I decided to take a sailing detour as a consolation prize for not having the boat finished. Since Tonga was to be one of the first island groups we planned to visit when we sail from New Zealand, I decided to arrange a bareboat sailing trip there on the way to New Zealand. I wanted a preview of what sailing the South Pacific would be like. Three other couples wanted to come along, so I arranged a bareboat charter on a Moorings 47 cat. The Plan was to fly to Tonga through New Zealand, and then stop at the yard on the way back. We left L.A. on April 23, and when we arrived in Auckland airport, we found out that the Royal Tonga Airliner that was to take us to Tonga has been repossessed! Welcome to travel in the South Pacific! Traveling to out-of-the-way places is like sailing - you get there when you get there. So you either chill or really get uptight.
"After spending all day on an unscheduled exploration of Auckland, we were able to get an Air New Zealand flight to Tonga. That flight took us, with one stop in the capital of Tonga, to the Vavua group of islands at the north end of the Tongan archipelago. Flying in over the crystal clear turquoise water dotted by hundreds of tiny tropical islands, we knew that long hours of travel were worth the effort.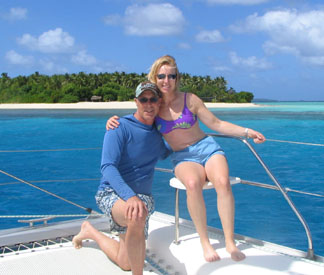 Don and Karen in Tonga
"Vavua is a group of about 40 small islands all protected to the windward by a huge reef. This leaves the water around the islands flat, while allowing the trade winds to blow through - producing perfect sailing conditions! We had seven full days of sailing, sunning, fishing - I caught a blue marlin, which was surprisingly good eating - and diving.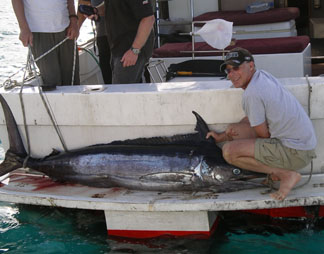 Don and his blue marlin
Photos Courtesy the Engles
"Every evening we worked our way through the coral heads to anchor off of a perfect deserted beach on a different tropical island. There weren't too many restaurants, so we cooked onboard about half the time. Each restaurant that we visited was a unique experience. After the sailing trip, we spent a few days on land in Tonga just to get a feel for the place.
"By the time we made it back to the yard in New Zealand, we were ready to work out a way to allow the builder to complete the project. Several days of negotiations and we have a new and, we hope, a realistic launch date - August 23."