Drawing of the Day: Maltese Falcon
May 17 - Belvedere
Over the last year or so, there's been a lot of talk about really big new sailboats, such as the 247-ft Mirabella V, and really fast sailboats, such as the new Mari-Cha IV. Meanwhile, a very experienced Northern California sailor has had a boat under construction that's going to be 42 feet longer than Mirabella, and very possibly even faster than Mari-Cha. We're referring to Maltese Falcon, which, unless all our sources are wrong, is being built for Tom Perkins of Belvedere. Perkins, successful in both science and business, is known in higher yachting circles for impeccable taste in the way he restored and sailed the 135-ft Herreshoff schooner Mariette, which was built in 1915.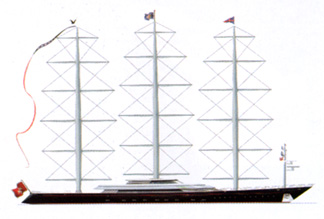 As you can see from the Drawing of the Day, Maltese Falcon is an unusual boat. Her steel hull, which is conventional enough, was built in Turkey by Perini Navi for another party that dropped out. Her Dynarig sailplan, originally conceived of by the German government for commercial purposes, is much more experimental. It features three free-standing rotating masts with 15 carbon fiber yard arms from which 26,000 square feet of sail will be able to be set. To reduce sail area, the sails - which are to be built by Doyle - apparently fold up like blinds toward the mast.
According to reports in the sailing press, once the yacht is launched in 2005, she'll be sea trialed with an eye toward taking on many of the world's great clipper ship records. Her owner is said to believe the big yacht may also be able to beat some of the recent sailing records set by the maxi multihulls.
Speaking of clipper ships, we'd be remiss if we didn't mention that Jim Clark of Silicon Valley should be launching an even longer boat, the 295-ft Athena, from the storied Royal Huisman yard later this year. A three-masted gaff schooner, Athena will look like a traditional clipper ship - except for the fact that she'll be bigger than any built before - and will sail much faster. Clark still owns the 156-ft Hyperion.