Profligate's Regress. Back In Nicaragua
May 12 - Puesta del Sol, Nicaragua
"We made it from Panama to Puesta del Sol Marina in Nicaragua in 82 hours," reports Doña de Mallorca via Skymate email. "According to Nobeltec navigation software, which has greatly simplified route planning and made it a lot of fun, we averaged 8.5 knots burning 1.4 gallons per hour per engine. We had one night of 20-knot headwinds, and otherwise offshore winds in the morning and onshore winds in the afternoon. We've carried the battered old jib for the last two days, and it's really given our speed a boost. We've found favorable current close to shore.
"This is the lightning center of the universe, and we've had thunder and lightning all around us. One night it was close, and one bolt caused the MicroCommander electronic throttle and gear controls to take the port engine out of gear at speed and put it in neutral at idle! This, of course, happened at 12:30 am in the middle of a very robust squall. But it's nothing to the lightning problems others have had.
"We've caught three fish and have been enjoying sushi.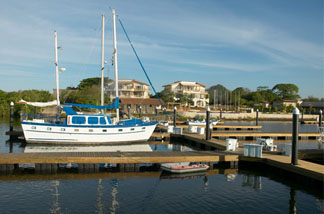 Puesta del Sol Marina
Photo John Pettitt
"Robert Membrano's marina has seen much progress since I came through in November, as there are new docks, a fuel dock with 4,000 gallon capacity, and a well-marked channel with 25 feet of water coming in. The best way to reach the marina is to contact Esperanza Peralta, the general manager, at gm office 505 228-7974 / marina office 505 276-0585 / cell 505 883-6913.
"We're underway again, making 9.5 knots off the coast of El Salvador, with 800 miles to go Acapulco. We're praying that we arrive at cocktail hour - after the fuel docks close! The first couple days out of Panama there was heavy shipping traffic, but now the horizon is empty. We're about 40 miles from having to make a decision about crossing the Gulf of Tehuantepec. Commander's Weather tells us there's a low moving across the middle of the U.S., which means there won't be a Tehuantepecker, so we'll be going straight across rather than keeping 'one foot on the beach'.
"I've got a terrific crew: Bruce Ladd, co-captain and political activist; John Pettitt, a photographer; Wayne Bingham, a retired heli-ski operator; and Ian MacLean, a writer. Everyone is great and treats each other with respect, and we're having a great time! I love them almost as much as I do the Skymate email, the Nobeltec electronic navigation, and Commander's Weather - all of which make this a very different experience."