Profligate's Regress
May 10 - Panama City, Panama
Profligate with Doña de Mallorca and the delivery crew are charging north to Puesta del Sol, Nicaragua, hoping to find fuel at Robert Membrano's hotel/marina for the next leg up to Acapulco. Other than a spell of 20 knots on the nose, they've had light winds and seem to be making good progress. In less than three weeks hurricanes are likely to be forming around the Mexico-Guatemala border and heading north, so any delays would not be good. As for the Wanderer, he's been spending his birthday pretty much alone in a Panama City hotel room, editing photos, going over notes, and waiting for the Monday morning flight to Miami and San Francisco. This should be his last long flight for some time, and he can't wait for it to be over.
Despite the hassles and expense of ramming a boat through the Canal in record time, we've enjoyed our time here. Panama City is often said to be very dangerous. We're sure that certain parts are, but we've been around the streets a bit, and have felt perfectly comfortable. Everyone we've met has been nice and friendly, a distinct change from parts of the Caribbean.
It's been cloudy since we got here, and the locals tell us it's now the rainy season, so it will stay that way until almost the end of the year. It's sort of like Seattle, but hot and sticky instead of cool and damp. The dry season is from January to April, when Panama gets lots of sun and blue sky.
Having come from an extremely expensive French Island during the height of the value of the Euro, we've been knocked out by the mostly low prices here in Panama. Here's some examples:
Heineken beer - 59 cents
Atlas Beer - 29 cents
Hamburger and soda from street vendor - 75 cents
Churros from street vendor - 12 for $1
Four bars of wrapped soap - $1.29
15-minute cab ride - $3
Gatorade - 75 cents
Pork loin center cut - $1.60/lb
Whole chicken - 79 cents/lb
Mixed frozen seafood - 55 cents/lb
Four sticks of butter - $1.99
Croissants/danish - 25 cents
Tuna - 39 cents for small can
Eggs - $1.20 dozen
Cooked BBQ chicken - $4.50
Quart of O.J. - 75 cents
Gallon of milk - $2.75
Diesel at gas station - $1.65
Gas at gas station - $2.20
Swimming suit - $2
Knock-off designer purses - $4 and up
Card good for 90 minutes on Internet - $1
The food prices come mostly from the Rey grocery, of which there are many around Panama. American brand products were about the same price as in the States. The fruits and vegetable selection was surprisingly unimpressive.
Panama elected a new president just last week. Just a few days after he was elected, he danced with Liz, one of our crew on the trip down from Antigua. We're not sure how that happened. Nobody seems too optimistic about prospects for the future. They say corruption is endemic, even if the new president is serious about trying to clear it up. The Panamanians we talked to say they like America and Americans very much - and are sorry we ever left. "Why," asked one cab driver "did President Carter want to give the Canal back?"
Our visit to the San Blas Island was kind of a disappointment. For one thing, it's a spectacularly beautiful area when the sun is out, and it has some of the clearest water in the world. But we didn't get any sun, so all that was lost.
And the heavily populated islands next to Porvenir were simply discouraging. The homes are made of palms, have dirt floors, and are uniformly dirty. They all have wood fires inside, but no ventilation. The homes near the water have outhouse piers out the back, where people poop into the water near where kids swim and adults fish. The Kunas throw garbage everywhere, so the main islands were ringed in floating garbage. And we saw girls sucking on bottles of Pepsi almost as big as they were, and everyone was buying up bags of cheese puffs. By noon, some of the guys sitting on the benches were drunk. Then some clever dudes sold us a lobster, neglecting to mention that it was out of season. Maybe it's just 'big city' life bringing out the worst in people - as it does in the States. Or maybe it has something to do with the fact that a mostly Type A person such as the Wanderer has a hard time with primitive cultures. Things are better on the outer islands.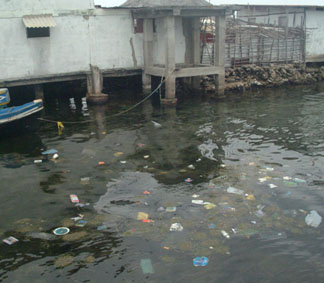 Too many Kunas use the ocean as a garbage dump. So we had to carry all our garbage to Colon - which itself isn't the cleanest place in the world.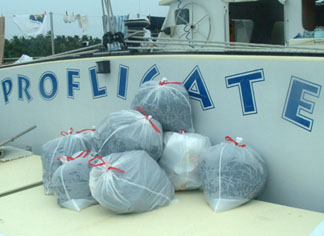 We carried all our garbage - except the organic stuff - to port. There were another 10 bags that stunk so much we had to put them in the engine room.


When you anchor off Porvenir, you want to make sure you'll well clear of the glidepath. Can you guess why?
At Flamenco Marina at the end of the causeway on the Pacific side of the Canal, things couldn't be much different. The Flamenco Marina is going great guns, with pent up demand for slips, particularly for megayachts. As such, new breakwaters are being put in and lots of shops opened. There's a mini Yerba Buena sized island in back of the marina that was once used as a fort. They are about to build a hotel on top of the hill and a casino in the hollowed out center. The whole causeway and Flamenco Marina area is extremely popular with locals, too, as it affords stirring views of the Panama City skyline and of the Bridge of the Americas.
Random photos from the Antigua to Panama passage: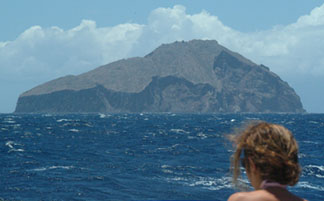 Redonda Rock, the last land for 1,100 miles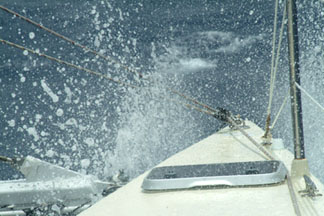 This was 10-knot spray. It was like a fire hose when you hit 20 knots or more.
Photo Latitude/Doña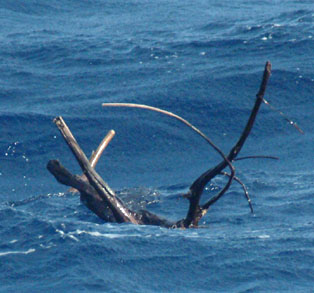 Despite being 100 miles from the mouth of the Rio Magdalena, there was lots of debris in one band of water. Our starboard hull hit logs twice.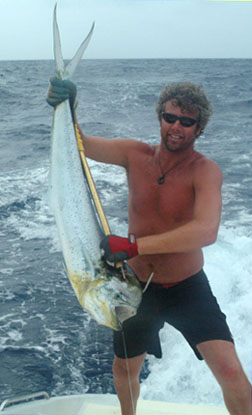 We only landed one fish during a trip, a nice mahi. Ken Fairchild caught it and cleaned it. Mmmmm, delicious!
Photos Latitude/Richard except as noted